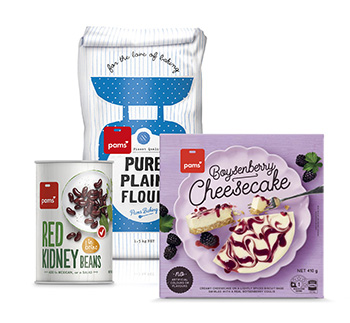 Pams
Pams first graced our grocery shelves in 1937, supplying baking and custard powder.
Today the range has swelled to more than 1600 everyday products which you can find spread across the store from baking to butchery, produce to grocery, to health and beauty.
Pams products can be found in all our stores nationwide. We are constantly striving to source unique or superior products both locally and internationally that meet our high quality yet affordable standards.
As well as introducing a health star rating on all our products, we are also constantly striving to offer products that are healthier alternatives. All of these innovations, are being recognised by our customers, as Pams continues to be voted as one of the Reader's Digest Most Trusted brands year on year.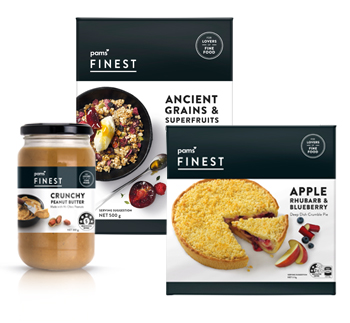 Pams Finest
Pams Finest means when you're looking for something a little more special, you don't have to pay through the roof for it. Each and every product in our Pams Finest range is carefully selected, so it only contains the finest natural ingredients, with no artificial flavours and colours. Pams Finest has fresh takes on old faves with new surprises for the entire family. With Pams Finest you can enjoy the finer things in life, any time you like. So whether it's breakfast for one or a dinner party for 12, look out for our Pams Finest range.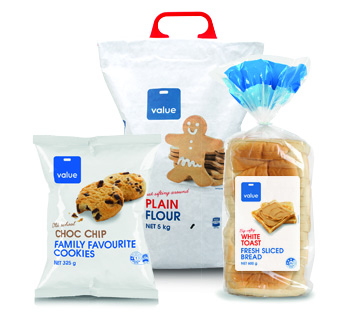 Value
After nearly 30 years our Budget range has had a well-deserved make-over, with a new name and new packaging to match.
With Value you'll still be able to pick up all your favourite weekly staples like bread, milk, eggs and chocolate chip cookies at the same everyday low prices.
Rest assured, you can still easily find Value on our shelves just look for the famous blue and white packaging.
Click through to pams.co.nz to read more about these three brands.