New owner operators of Four Square Picton have plans to make their first store the most welcoming in the South Island
29 September 2023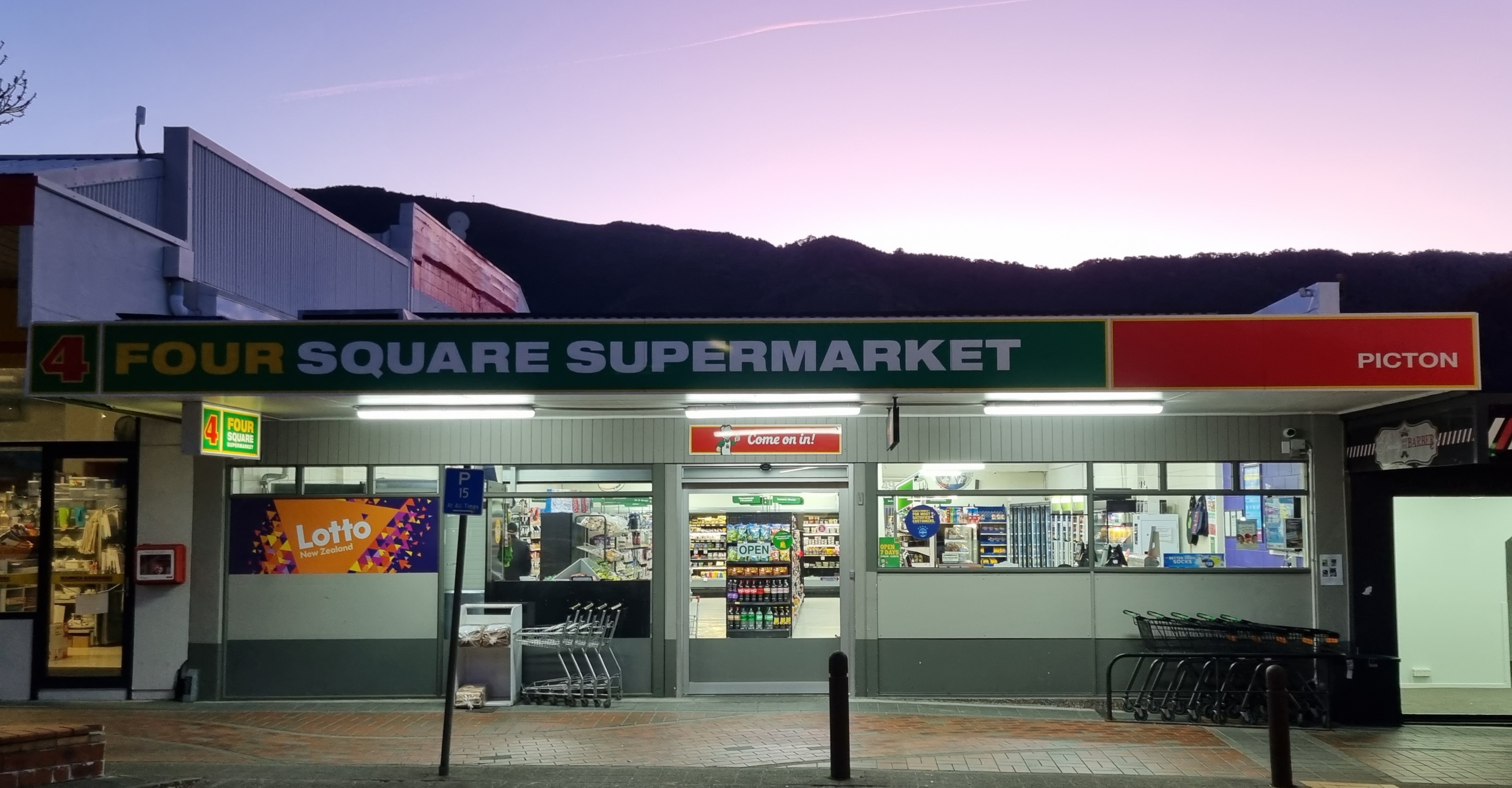 Four Square Picton
The new owner operators of Four Square Picton, Rachel and Pete Seddon, are excited to take the reins of their first store and are already feeling at home among locals in the picturesque seaside town.
Rachel and Pete have recently made the move north from Christchurch with their kids Frank, 5, and Aubrey, 7, in tow, and are keen to get to know their new community.
"Our first week was full on but we've been enjoying it," Rachel says.
"The locals and our neighbours have been really welcoming and friendly, introducing themselves and stopping in to have a chat."
"The great thing about a small town is the community focus and the power of word of mouth," Pete says.
"In our first week, we'd be walking down the street and people we didn't even know were asking us if we're the new owners," he laughs.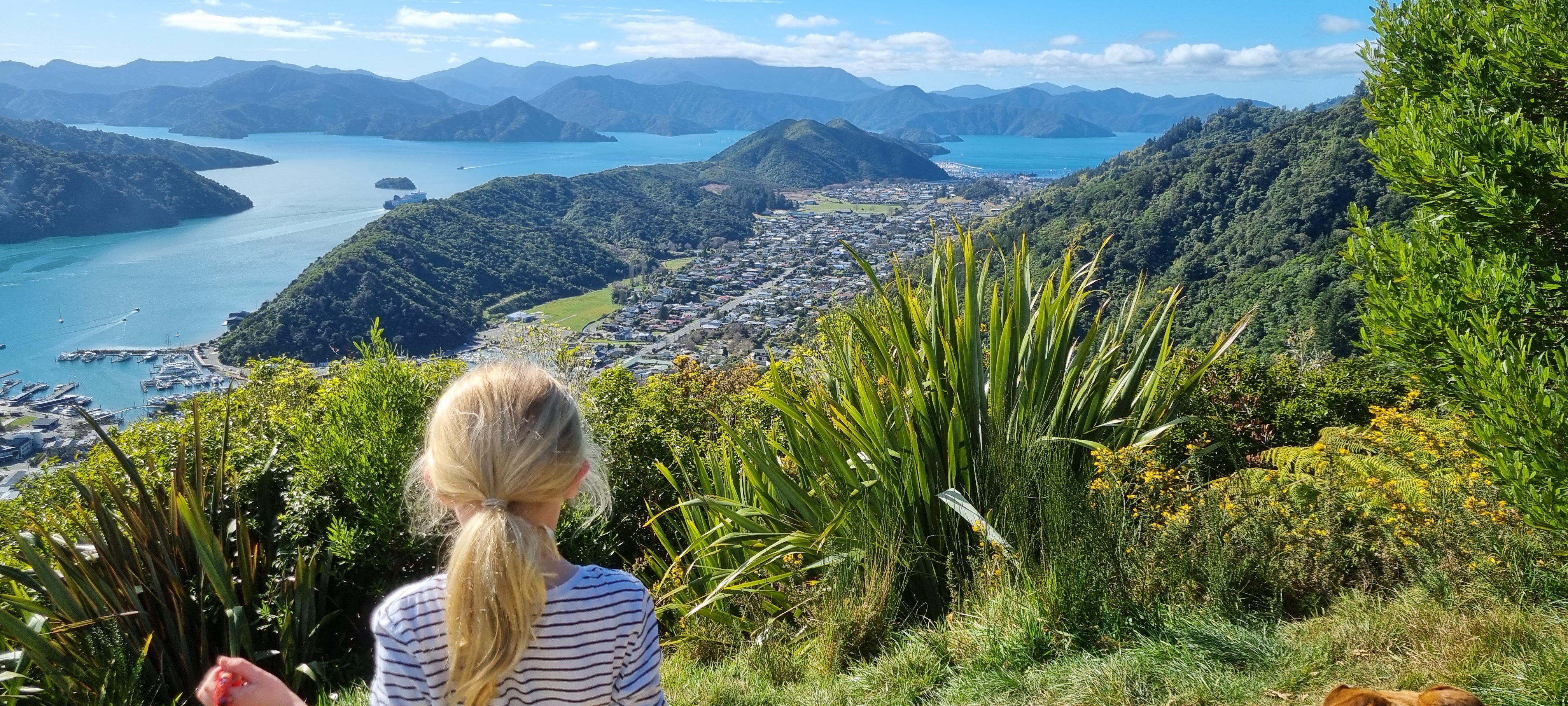 Rachel and Pete's daughter Aubrey takes in a stunning view of the Queen Charlotte Sound
Four Square Picton has a steady flow of customers throughout the year, most of whom are locals, and the store is also a popular destination for many tourists and travellers that arrive by cruise ship and the ferry during the busy summer period.
For many travellers, Picton is the gateway to the South Island, and Rachel and Pete are excited about everything it has to offer.
"The climate and the area were big drawcards for us – and as the gateway to the South Island, it's great to be able to meet visitors and share what the region and South Island has to offer," Pete says.
"We have good information available for visitors and tourists about all the great the attractions in the Marlborough region and beyond, and the best way to get there."
Rachel and Pete have aspirations and plans to make Four Square Picton one of the best Four Squares in the South Island.
"We want to continue to develop the business and make it renowned for service that's second to none," Pete says.
"Our aim is to make Four Square Picton the most welcoming supermarket in the South Island."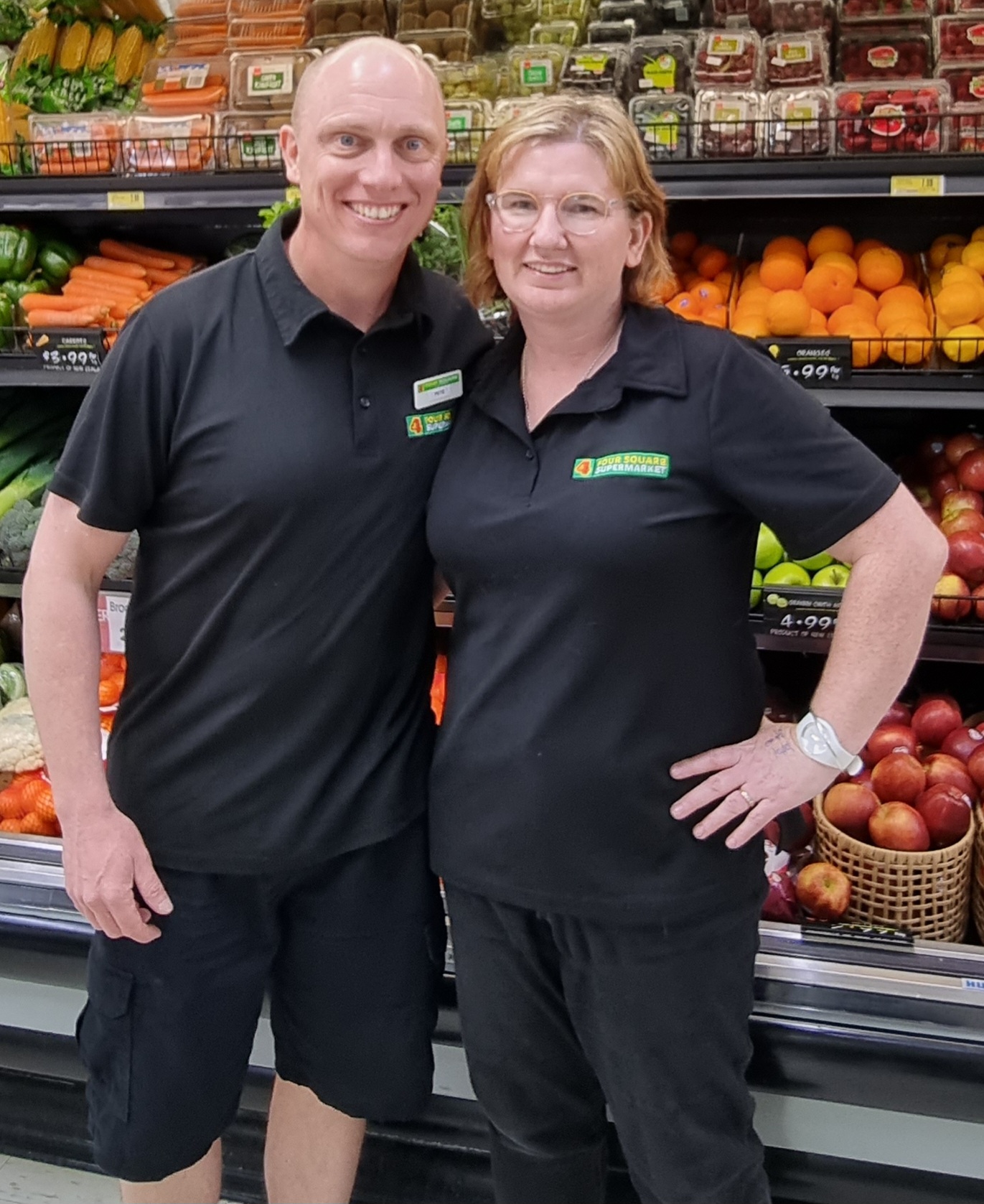 New owners of Four Square Picton Rachel and Pete Seddon
South Islanders Rachel and Pete have lived in Christchurch for more than 20 years and have always taken the time to serve and give back to their community. Pete has already enlisted as a volunteer fire fighter with the Picton Volunteer Fire Brigade and joined the local RSA. They've previously volunteered for the Red Cross, Rachel has been president of her local toy library, and Pete has been a member of the Papanui RSA committee. He's also spent 13 years as a New Zealand soldier serving on peacekeeping missions overseas, 10 years as a fire fighter with Fire and Emergency New Zealand, and volunteered for the Student Volunteer Army, which was formed in response to the Christchurch earthquake in 2011.
"We've always volunteered and provided service to our community in some shape," Pete says.
Pete worked alongside police in the aftermath of the Christchurch earthquake, offering support on the cordons around the city centre to help prevent crime and looting that generally happens following a disaster. He recalls a number of occasions when the community rallied around them in support following a particularly large aftershock.
"I remember seeing some real community spirit in the aftermath of the earthquake – people were giving us food and bringing us thermoses of coffee and sandwiches. It's not something we expected, they just did it."
Rachel is a chartered accountant by trade and in 2010, she joined the Accountancy Services team at Foodstuffs South Island, the 100% New Zealand owned co-operative behind the South Island's Four Square, New World and PAK'nSAVE stores. She worked her way up and took over the accounting for Four Square stores. After taking a break to start a family, Rachel rejoined the workforce in the shipping industry.
It wasn't long before opportunity came knocking. Rachel was contacted by Julia Spence, a Four Square owner she had previously worked with, who offered her an office manager position at a New World store.
"I said 'yes' and I've been attached to the hip with Julia ever since," Rachel says.
In 2018, they went on to work together at New World Prestons, Julia as owner, and Rachel as operations manager.
About a year ago, Rachel attended a Foodstuffs South Island's Women's Forum and caught up with a friend, Christine Renwick, who told her it was time to get a store of her own.
"The great thing about Foodstuffs South Island is the network of people who help you out, and for me, I was lucky to have people like Julia, Christine, and Annie and John at Four Square Hanmer, who provided us with the knowledge, guidance and experience we needed to begin our journey towards ownership," Rachel says.
"We took the leap and here we are with our first store; it's a great feeling."
"Working in the supermarket business is pretty special because we're in it as a family. We're all working together, we care about each other, and we look out for one another. We really enjoy the teamwork and camaraderie which is what want to see in our store."
Rachel and Pete want to look after their customers by continuing to provide affordable food, while also stocking a range of artisan products that showcase the Marlborough region, like honey and chocolate, and beer and wine, for tourists and travellers that come into town off the cruise ships, ferries, or highway.
They will also continue to offer a unique service to locals, such as delivering groceries free of charge via the Mail Boat to a handful of customers who live in the more isolated areas of the Marlborough Sounds.
And with summer around the corner, they're keen to start doing platters for people spending the day out on a boat, or lunch packs for those doing local walks such as the Queen Charlotte Track.