BJ's Four Square to give back to Waitara with a community giveaway this Christmas
December 10, 2020 by: Foodstuffs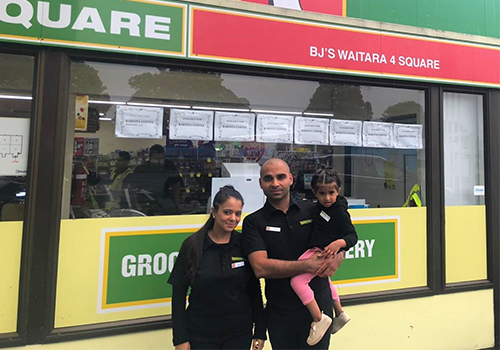 In the spirit of Christmas, Syd Arora and his family are celebrating the milestone of owning BJ's Four Square over the past two years with a local community giveaway.
Customers who shop in-store between the 7-20 December will be given the opportunity to nominate a deserving local who will go in the draw to win one of 60 $100 gift hampers.
Customers are invited to nominate someone on the back of a receipt and place it in the entry box located at checkout.
Syd Arora owner operator at BJ's Four Square says, "We've seen first-hand how 2020 has impacted locals in our community, with Covid-19 bringing hardship and challenges to the Waitara community. We wanted to do something special for locals in the form of a community giveaway and we're hoping to spread some Christmas cheer to deserving families this holiday season."
Having only taken over the ownership reigns of Four Square Waitara two years ago, Arora's history with Four Square began when he was a 17-year-old student stacking shelves at Four Square Cockle Bay in Auckland. It was at Four Square Cockle Bay where Arora learned the ropes of grocery retail, upskilling himself by working in different departments and what it takes to run a store.
After his time at Four Square Cockle Bay, Arora and his family headed south to Hamilton, where he purchased his first store, Four Square Silverdale.
"When we purchased our first supermarket in Silverdale, we fully immersed ourselves in our new community. We were new locals, supporting locals. After 8 ½ years in Hamilton, we decided to make the move to Waitara taking over the well-established Four Square in town which locals have loved and supported for years.
"Since moving to Waitara, we've been amazed at how the community has welcomed us with open arms. We wanted to give back to our community and look after those in need through a special giveaway this Christmas," says Arora.
Giveaway entries close on 20 December. Winners will be contacted shortly thereafter for prize collection on 21 December, just in time for Christmas Day.
"Waitara has a special place in our heart and we look forward to being there for our community for years to come," finishes Arora.