Apple Strudel
This delicious Apple Strudel is a great idea for your next dessert!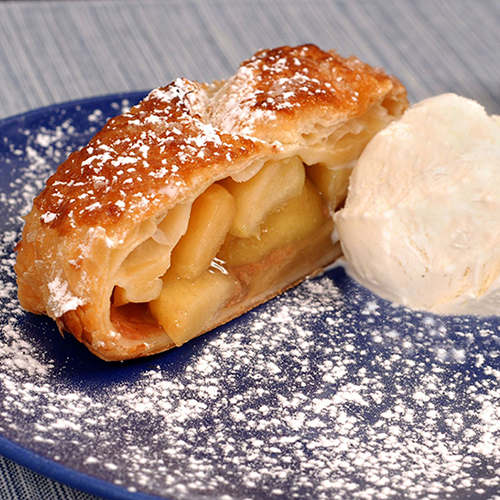 250g Pams Plain Flour
1/2 tsp Pams Salt
1 egg
100ml lukewarm water
1 tbsp Pams Canola oil
50g Pams Butter
100g Pams Fine Breadcrumbs
140g sugar
2 tsp cinnamon
170g Pams Raisins
1 dessert spoon lemon juice
1.1kg peeled Granny Smith apples, cored and sliced
A shot of rum (optional)
Extra butter, melted
View the method
Mix flour, salt, egg and water to a soft dough and knead until it comes away from the table and hands.
Form into a ball and allow to rest covered in oil for 30 minutes.
Put the dough on a floured covered linen cloth and roll into a rectangular shape. Extend it on the back of your hands to a wafer thin layer. Heat the butter and add the breadcrumbs until they become golden brown.
Mix sugar with cinnamon. Mix raisins, lemon juice, apples and rum. Combine butter breadcrumbs and sugar mixture to create filling.
Place filling in the extended layer of dough, cut off the thick ends and roll carefully with the cloth. Place the strudel on a buttered baking tray and bake at 190°C (170°C fan-forced) or until the pastry takes on a golden shine (30 – 40 minutes).
Coat with melted butter as soon as the strudel comes out of the oven.
Serve with cream or vanilla icecream.
Back to ingredients