Beef Braised in Beer
Cooking beer in casseroles adds a rich flavour to the sauce and with the number of beers now available you can make many variations on this basic recipe.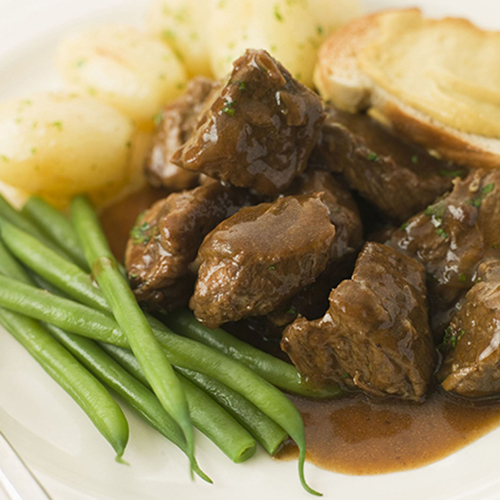 600–750g casserole beef
¼ cup seasoned fl our (salt, pepper etc)
2 Tbsp oil
¼ cup tomato paste
330ml bottle dark ale or beer
1 cup beef stock
2 onions, peeled and quartered
100g mushrooms, quartered
2 stalks celery, trimmed and chopped
1 large carrot or parsnip, peeled and roughly chopped
few stalks fresh thyme or ½ teaspoon of dried
View the method
Cut the meat into large 3cm pieces and toss in the seasoned fl our. Heat the oil in a large lidded frying pan and brown the meat pieces on all sides. Transfer to a casserole dish.
Add the tomato paste to the pan and cook for 3-4 minutes until it browns. Stir in the beer and beef stock and bring to the boil. Pour over the beef.
Add the onion, mushrooms, celery and carrots or parsnip.
Cover and simmer in the oven at 160ºC for 1 ¼ hours until tender. Alternatively simmer very gently on top of the stove.
Variations
If wished, add 4 rashers of diced bacon with the vegetables. Add a bay leaf and parsley stalks to the casserole while cooking. Vary the vegetables - try tomatoes, onion and mushrooms.
Back to ingredients