Beef Satay Stir Fry
A great stir fry for a great evening in. Or try our sweet chili and lime prawn stir fry as an alternative to beef.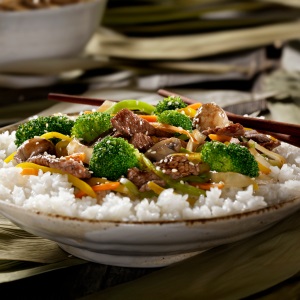 1 pack Pams Satay Stir Fry Sauce
1 tbsp Pams Canola Oil
600g beef schnitzel or steak, thinly sliced
3 cloves garlic, crushed
1 tbsp grated fresh ginger
1 onion, finely sliced
1 large carrot, finely sliced
300g green beans, trimmed
1 head broccoli, chopped into florets
2 cups Pams Long Grain Rice, cooked
Roasted unsalted peanuts
1/4 cup torn basil leaves
View the method
Heat oil a wok and stir fry beef in batches until browned, set aside.
Add garlic, ginger, onion and carrot to the wok, stir fry for 5 minutes.
Add the beans and cook a further minute before adding the broccoli, the cooked beef and the stir fry sauce. Cook until broccoli is just tender.
Serve stir fry on the cooked rice and scatter with some roasted peanuts and basil leaves.
Back to ingredients