Blueberry Bran Muffins
These Blueberry Bran Muffins are a great healthy snack idea!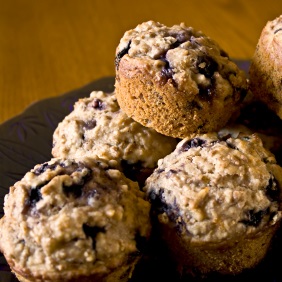 ½ cup Pams Rice Bran Oil
¼ cup golden syrup
¼ cup sugar
2 eggs
1 cup milk
1 ½ cups bran flakes
1 cup Pams Self Raising Flour
1 tsp mixed spice
1 cup Pams Blueberries
View the method
Preheat oven to 160°C, grease 12 muffin pans.
Place oil, golden syrup, sugar and milk in a bowl and beat lightly to combine.
In another bowl combine bran flakes, flour and mixed spice and make a well in the centre.
Pour the beaten wet ingredients into the well, stir until just combined.
Gently stir in blueberries.
Spoon mixture into muffin pans and bake for 25 minutes or until a skewer inserted into the centre of a muffin comes out clean.
Back to ingredients