Carrot and Courgette Muffins
Images from The Great New Zealand Baking Book copyright © Lottie Hedley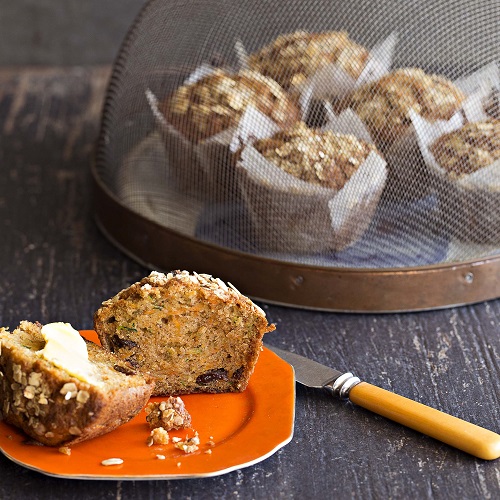 250 g Pams caster sugar
250 ml oil
170 g Pams eggs (approx. 3)
265 g Pams plain flour
1 tsp mixed spice
1 tsp Pams bicarbonate of soda
2 tsp Pams baking powder
pinch of Pams salt
200 g grated carrot (2 medium-sized carrots)
200 g grated courgette (2 medium-sized courgettes)
100 g sultanas or raisins
3 tbsp wholegrain oats
View the method
Pre-heat the oven to 210°C. Grease the holes of a standard or large muffin pan.
Beat the caster sugar, oil and eggs together until the sugar is dissolved, then fold in in the flour, mixed spice, bicarbonate of soda, baking powder and salt. Finally, mix in the carrot, courgette and sultanas or raisins.
Two-thirds fill the muffin pans and sprinkle oats on the top. Bake for around 15 minutes (standard muffins) or 25 minutes (large muffins). Cool in the pan for a few minutes before removing to a wire rack.
Back to ingredients