Cheese Muffins
Images from The Great New Zealand Baking Book copyright © Lottie Hedley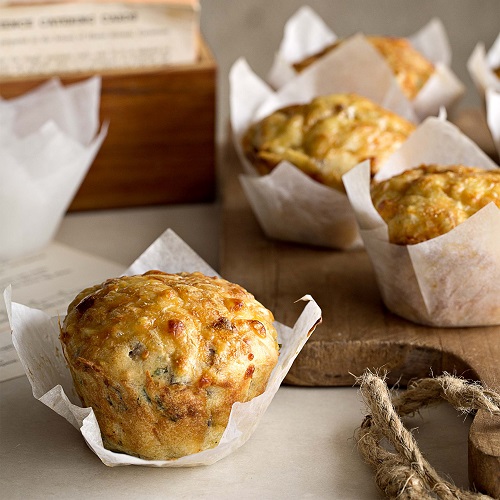 2 cups Pams plain flour
4 tsp Pams baking powder
2 tsp dry mustard
1 tsp Pams salt
large pinch of freshly ground black pepper
2 cups grated tasty cheese
11/3 cups Pams milk
180 g Pams butter, melted
2 eggs, separated
View the method
Pre-heat oven to 200°C.
Sift dry ingredients together into a bowl, then mix in cheese.
Combine milk, melted butter and egg yolks.
Beat egg whites until soft peaks form when you lift the whisk.
Add the liquid ingredients to the dry ingredients, mixing lightly together. Lastly fold in beaten egg white.
Spoon into 12 well-greased or paper-lined muffin tins. Bake for 15–20 minutes until risen and golden brown.
For variation, sometimes I add lots of chopped fresh herbs – parsley, chives, oregano – whatever I have, or add a good sprinkle of piri piri seasoning which will clear everyone's sinuses at morning coffee. For a gentler spice, try 1 tsp of Moroccan seasoning.
This savoury mixture also marries well with chopped sun-dried tomato, or add a few chopped Kalamata olives to the mix and then press a small cube of feta cheese into the centre of each muffin just before you cook them.
Back to ingredients