Cheesy Ham, Mustard and Apple Sauce Toastie
Jazz up your standard ham and cheese toastie with our twist on this classic!
Tip: Leftover apple sauce is great for adding to fruit smoothies.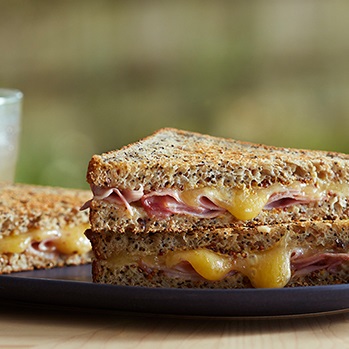 2 slices Pams Four Seed Bread
2 teaspoons Pams wholegrain mustard
30gPams Shaved Ham
1 tablespoon Pams apple sauce
Handful of grated Pams cheddar cheese
View the method
Spread the bread slices with mustard and then cover one slice with rolled ham.
Dollop over the apple sauce and then sprinkle with cheese.
Cover with remaining bread slice, mustard side facing down.
Toast in a sandwich press until the cheese is melted and the bread is golden.
Back to ingredients