Cheesy Vegetable and Bacon Filo Parcels
A great recipe - easy to make and tastes fantastic!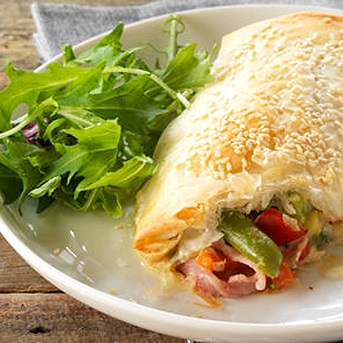 750g bag Wattie's frozen International Stir-fry Mix
50g butter
1 onion, finely chopped
200g middle bacon rashers, chopped
1/4 cup flour
1 cup milk
1/2 cup grated tasty cheese
375g box filo pastry
Oil spray
2 Tbsp sesame seeds (optional)
View the method
Put Wattie's frozen International Stir-fry Mix into a microwave proof dish. Cover. Microwave on high for 5 minutes, until vegetables are partially cooked. Drain off any excess water. Set aside.
Melt butter in a saucepan. Add onion and bacon and cook until the onion is soft and bacon is cooked. Cook at a medium heat, to avoid the onion burning.
Stir in the flour. Gradually add milk, stirring constantly until the sauce thickens and boils. Reduce heat and simmer for a further minute. Remove from heat. Stir in the grated cheese and vegetables and mix well.
Set aside to cool. Preheat oven to 180°C fan bake.
Take one sheet of filo pastry and place it on a board with the short edge facing you. Spray or brush lightly with oil. Place a second sheet of filo on top, brush with oil and top with a third sheet.
Place 1/8 of the cooled vegetable mixture into the middle of the bottom third of the filo. Fold the sides of the filo into the filling and roll up to enclose the vegetables. Place the parcel seam side down on a baking tray lined with baking paper and spray the top with oil. Sprinkle with sesame seeds. Repeat with the remaining vegetables and filo.
Bake for 25-30 minutes until golden and filling is hot.
Back to ingredients