Chicken and Mango Chutney Jaffles
A yummy and quick lunch, dinner or snack for the whole family.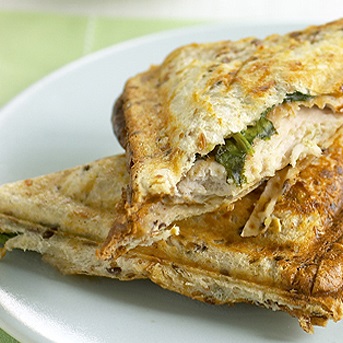 1 Tbsp oil
500g chicken breast fillet, split through the centre
Olive oil cooking spray
8 slices large size multigrain sandwich bread
1/3 cup mango chutney
60g baby spinach leaves
View the method
Heat oil in a non-stick fry pan. Add half of chicken breast fillet. Cook over a medium-high heat for 3 minutes on each side, or until golden and cooked through. Transfer to a large plate. Cook remaining chicken breast fillet.
Spray one side of bread with olive oil cooking spray. Place onto a board, spray side down. Place a slice of chicken breast fillet onto each slice of bread. Top with a tablespoon of mango chutney and spinach leaves. Top with remaining slices of bread. Spray top of bread.
Heat a café grill or non-stick fry pan. Cook 2 sandwiches at a time, for 4 to 5 minutes or until golden and heated through. Cut in half and serve immediately.
Back to ingredients