Chilli Mussel Fritters
Try this Chilli Mussel Fritter recipe for some spicy goodness!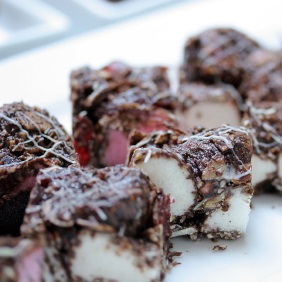 300g marinated mussels
1 large shallot, chopped
1 -2 teaspoons diced red chilli
2 tablespoons each: chopped parsley, coriander
salt and pepper to taste
2 eggs, separated
1 green pepper (capsicum) seeded and finely diced
1/4 cup each: self-raising GF flour, milk
oil for frying
View the method
Drain the mussels and place in a food processor. Add the shallot, chilli, herbs, seasonings and egg yolks. Blend, until fairly smooth.
Remove to a bowl. Stir in the green pepper, the flour and milk. Mix well.
Beat the egg whites until stiff peaks form. Lightly fold into the mussel mixture.
Heat a little oil in a non-stick frying pan. Place heaped tablespoons of the mixture into the pan. Cook until bubbles appear on the top then flip over to cook.
Back to ingredients