Economical Cupcakes
A tasty yet economical cupcake recipe submitted by a valued Four Square customer.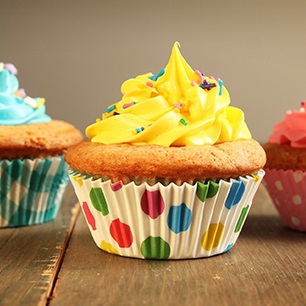 150ml cooking oil
150g sugar
1 tsp vanilla essence
2 eggs
1 Tbsp golden syrup
2 cups plain flour
1 tsp Pams baking powder
1 cup milk
View the method
Pre-heat oven to 160 degrees.
Put 12 paper cups into muffin tins.
Put first 5 ingredients into bowl and beat till fluffy.
Add flour, baking powder and milk
Mix for 2 minutes
Put into papercups and cook for 20 minutes.
Ice with your favourite icing and enjoy!
Back to ingredients