Green Beef Coconut Curry
Tender beef simmered in green curry paste and coconut milk.
This recipe creates a no-fuss Asian flavoured curry that can be accompanied with rice or noodles and a glass of Sauvignon Blanc.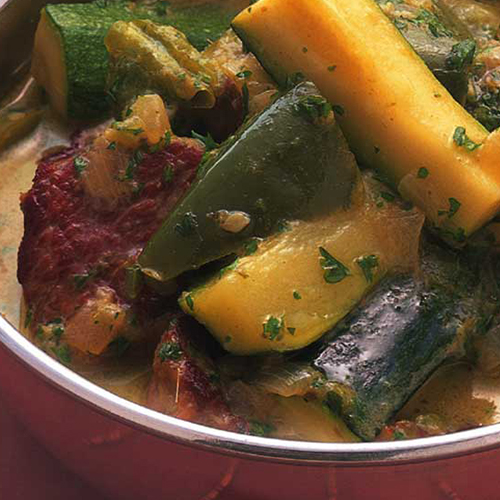 500g casserole beef (blade or chuck)
2 Tblsp oil
2 Tblsp green curry paste
1 tsp minced garlic
2 green peppers, diced (optional)
400ml can coconut cream
2 courgettes, cut into finger-size pieces
1/4 cup chopped coriander or parsley
View the method
Cut the beef into long thick pieces and brown quickly in the hot oil in a lidded frying pan.
Add the green curry paste and minced garlic and cook one minute before adding the peppers (if using) and coconut cream. Cover and simmer gently for 1 hour or until the meat is tender.
Stir in the courgettes and simmer for 5 minutes. Season with salt and add the coriander to garnish.
Back to ingredients