Hearty Vegetable Soup
This hearty vegetable soup has just enough heart to be great for either a starter or a light meal.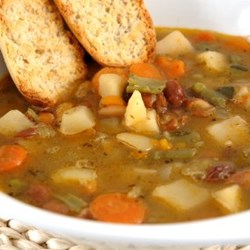 1 1/3 cups Pams Soup Mix
6 cups of chicken or vegetable stock
2 tsp dried rosemary
1 medium onion, finely diced
3 cups of vegetables such as carrots, swede, potato, leeks and celery peeled and diced.
Salt and freshly ground black pepper
2 Tbsp. of chopped parsley
View the method
Place soup mix in a heavy-based saucepan with stock and rosemary, bring to the boil, reduce to a simmer and cook covered for 1 hr.
Add onion and mixed vegetables to the soup mixture and continue cooking for 20-30 minutes until vegetables are tender.
Stir in parsley. Serve hot with crusty bread.
Back to ingredients