Persian Couscous Salad
This Persian couscous salad is a must-try for any salad fan.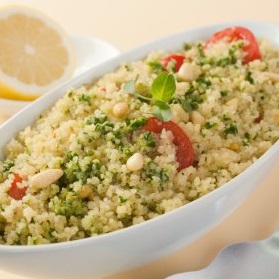 1 cup Pams Couscous
2 tsp vegetable stock
½ tsp sugar
Grated rind of a lemon
2 cups of boiling water
¼ cup Pams Chopped Almonds
¼ cup Pams Pinenuts
½ cup currants
2 Tbsp butter
½ cup Pams Dried Apricots, chopped
Chopped parsley or coriander
View the method
Mix couscous, stock powder, sugar and grated rind in a bowl.
Add boiling water, cover and leave to stand for 3 minutes.
Melt the butter in a pan and heat the currants and nuts over a medium heat until the nuts brown lightly and the currants puff up. Add the apricots.
Fluff up the couscous with a fork and add the hot nuts and currants. Add the herbs just before serving.
Back to ingredients