Smoked Chicken and Brie Pizza
Pizza is always a great favourite of children and adults alike. Try this pizza as a family meal or make a few for a social gathering.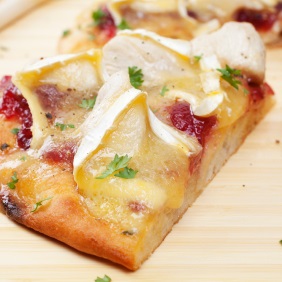 3/4 cup lukewarm water
2 Tsp dried yeast
Pinch salt
Pinch sugar
2 cups Pams plain flour
2 Tbsp Pams Pure olive oil
TOPPINGS
1/2 cup cranberry sauce
1 cup Pams smoked chicken breast, shredded
1 small red onion, thinly sliced
1/2 wheel brie, cut into chunks
View the method
Gently mix together the water, yeast, salt and sugar. Stand for 5 minutes, or until bubbles appear on the surface.
Sift the flour into a large bowl. Add the yeast mixture and oil. Mix to form a soft dough. Turn out on to a lightly floured surface. Knead for 8 minutes.
Shape dough into a ball and place in a lightly oiled bowl. Cover loosely with cling wrap and place in a warm, draught-free area for 40 minutes, or until dough has doubled in size.
Punch dough down and roll into desired shape and place onto a floured pizza stone or oven tray.
Spread the cranberry sauce thinly over the pizza base. Arrange the smoked chicken, red onion and brie on top of the cranberry sauce and sprinkle the pizza with the mozzarella cheese.
Bake in a preheated 200°C oven for 15 - 20 minutes, until crisp and golden.
Back to ingredients