Vegetable Curry
This is a great Friday night or weekend curry. It's a tasty, cheaper and healthier alternative to store-bought curry. For more tasty family meal ideas go to www.feedingourfamilies.org.nz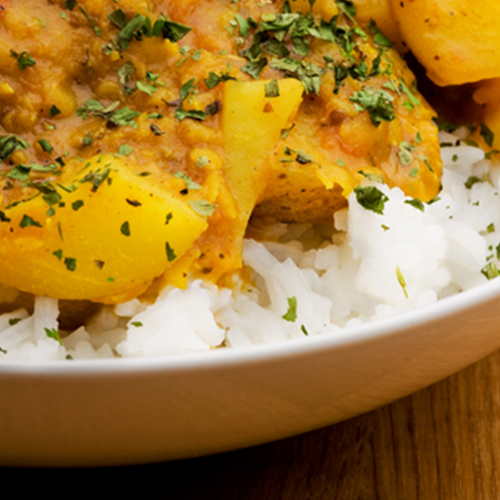 1 tablespoon vegetable oil
1 large onion, chopped
3 teaspoons pre-prepared crushed garlic
500 grams pumpkin, peeled and chopped into bite-size bits
1/2 cauliflower, chopped into bite-size bits
1 jar curry simmer sauce (350g jar), eg Madras or Tikka Masala
1 can Indian-spiced tomatoes (400g can)
1/2 cup water
1 can chickpeas (420 gram can), drained
1/2 bag loose-leaf frozen spinach (350g bag)
View the method
Heat oil in large saucepan. Add onion and garlic, and cook for a few minutes.
Add pumpkin and cauliflower, and cook for another 5 minutes.
Add curry sauce, tomatoes and water. Simmer gently for around 15 minutes or until vegetables are cooked. If the curry starts to dry out and stick to the bottom of the pot, add a bit more water.
Add chickpeas and spinach. Cook for another 5 minutes.
Serve with rice.
Back to ingredients