Four Square Franz Josef and Foodstuffs South Island Wishes a fond farewell to Cushla Jones for 40 years of service alongside husband Chris Roy
Monday, 1 March 2023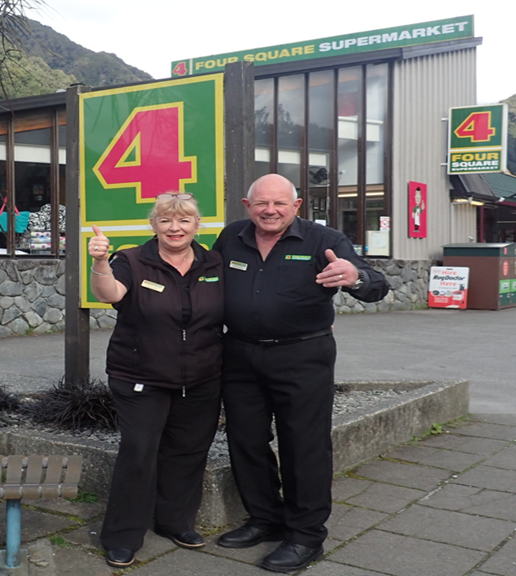 Foodies and goodies at heart Cushla Jones and Chris Roy step down from their owner operator role at the community favourite Four Square supermarket in Franz Josef.
Cushla's journey in the grocery industry has been amazing, starting at the early age of sixteen at a Fruit and Vege shop in her hometown of Fairlie to chasing her dream of owning a supermarket, and now to happily be retiring with husband Chris and a galore of proud achievements, goodwill, and respect from the community.
Cushla became a part of Foodstuffs South Island in 1996 when working at a local supermarket that joined the New World brand. With over 13 years of service and experiencing the stores transition, as well as meeting her husband Chris, they decided to take her dream forward and were successfully approved to become Four Square owner operators.
When Cushla and Chris first moved to Franz Josef, they quickly connected with then owners of Four Square Franz Josef, Mark and Kelsey Williams, where they joined the team and subsequently took over ownership of the store in July 2004.
Since becoming owner operators of the store, not only have Cushla and Chris made many changes progressing the store's offerings, introduced Lotto to South Westland in 2005, they have undoubtedly provided great customer service and have been enormous supporters of the community in times of need.
Cushla says, "Over the years we have had immense pleasure to have sponsored and been able to contribute to many organisations within our communities, the list is long, you name it and we have proudly been there in some form. Our customers told the story, we supported them, provided what they needed, they supported us - a true partnership all around."
Cushla and Chris describe their greatest achievement over the many years of operating the store as simply being able to continually provide a great service in our communities, employ great people and create opportunities for them and their futures.
They have been very proud to operate under the close-knit Four Square banner and progressed the store from its early days to becoming one of the leading stores in the South Island for the majority of their tenure.
Four Square is a big part of Foodstuffs heritage, a 100% locally owned and operated co-op who've pledged to be 'Here for NZ' with owner operators like Cushla and Chris that live and serve within their local communities.
Chris says, "Our highlights with being a part of the Foodstuffs South Island co-op and especially being frontline in the store is about the relationship with people, everyone helping each other, in many facets of life. Being in a Four Square store you are an integral part of the community, often the social hub giving you the opportunity to really make a difference!"
Eugene Ruane, Four Square Group Manager at Foodstuffs South Island says, "It's been inspiring and a pleasure to work alongside Cushla and Chris, their dedication to providing extraordinary service and passion to connect with the community is what gives our Four Square brand its true meaning and purpose."
During their time at Four Square Franz Josef, Cushla was privileged and chuffed; to be successfully voted to become a Four Square Executive member, which she was able to carry out for over 12 years with Chris's great support.
Cushla ends with, "We would like to take the opportunity to say a very sincere thank you and express our immense gratitude to Foodstuffs South Island, support centre, our wonderful team we have had the good fortune to employ throughout the years, and the support they have given us especially in times of adversity, we couldn't have done it without you all. And to our South Westland community - thank you for continuing to support "your local", we will miss you! A sad moment to be leaving all of this behind however a great moment to be able to pass the reins into the capable hands of Josh & Kirsty Flavell. We wish them all the very best with their future and the future of Four Square Franz Josef."