It's a family affair for first-time owner operators of Four Square Outram
4 May 2023
First-time owner operators of Four Square Outram, Emily and Mike O'Connor, are excited to be continuing a Four Square family tradition, after recently taking the reins of the store.
Emily's parents, Cheryl and Stewart Mitchell previously operated the store for 38 years, making them one of the longest serving members of Foodstuffs South Island, the co-op behind Four Square on the mainland.
"We're so excited to have the opportunity to own and operate the same Four Square store as my mum and dad, they've left us with some pretty big shoes to fill, and we want to continue to build on all the fantastic things they've done and relationships they've created in the community," Emily says.
For Emily it's been almost a lifetime's journey to become the owner operator of the store that she grew up in.
"I've been helping out, serving, and doing whatever needs doing instore since I was [aged] 12, so it's been a pretty special journey."
Emily and Mike met while working at Fisher & Paykel in Dunedin – both spent a good stint in the manufacturing division, Emily for eight years, and Mike for 12 years.
With family becoming a top priority, and Emily's parents looking to retire, the couple set their sights on Four Square Outram which first meant they went through an approval process that enabled them to become members of the near 100-year old Foodstuffs South Island co-op and the right to purchase the store.
Emily has worked at the store off and on for most of her life, so it seemed fitting for the couple to start their co-op ownership journey there.
Over the past six years, Emily's parents provided the couple with a good grounding on how to operate a Four Square supermarket, and everything required to run a successful business.
"We're very fortunate to have had the role models and opportunity to own an awesome business, and to have had the knowledge and training from Cheryl and Stewart to keep it going and keep it rolling," Mike says.
The O'Connors are proud to own the only Four Square in the South Island that provides an ice cream in a scoop service, and one that specialises in hot soup and one of Southland's most famous morsels, Southland cheese rolls, both lovingly made by Emily herself.
Mike and Emily are also happy to be able to balance work and family life amid running a bustling store, a full-time job for the duo who split shifts and work flexibly so that someone is always on hand when they're needed. They now have more time to spend with their four boys, aged 9 to 15, and take them to and from their various hobbies including basketball, rugby, hunting and fishing, kickboxing and drums.
Two of their sons are also working part-time at the store and getting a taste of what life is like in the real world, Mike says.
"Our kids, and the opportunity to own and operate this store are our biggest achievements, and it's something we put our all into every day," Emily says.
"We're around a lot more for the kids and have the balanced lifestyle we've been working towards, so it's been really positive for us as a family," Mike adds.
"It's been great getting to know our customers and our community better and we're looking forward to getting involved and supporting our locals wherever we can."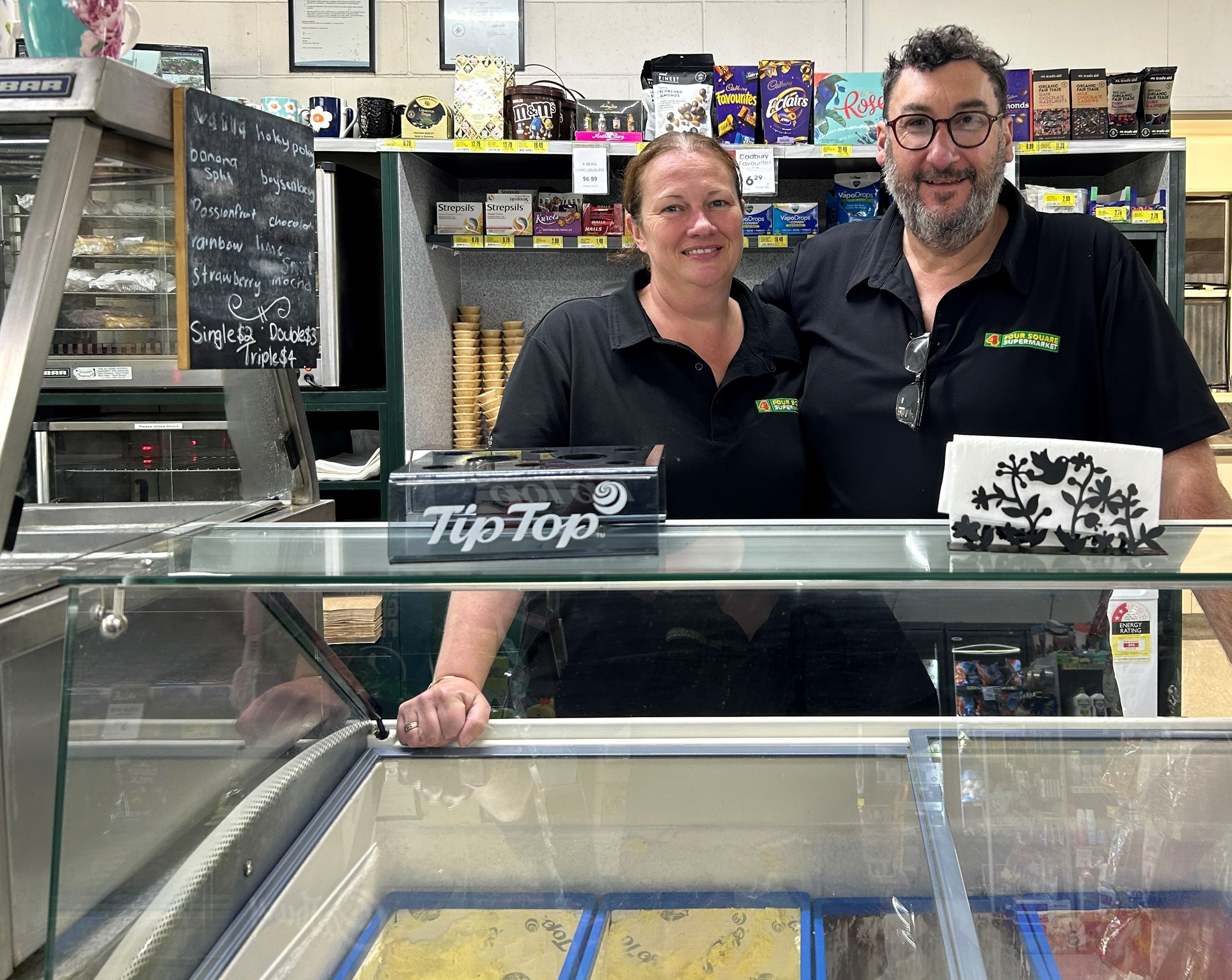 Owners of Four Square Outram Emily and Mike O'Connor, operate the only Four Square in South Island to sell ice cream by the scoop