Make Dad's day – 4 no-cook breakfasts to serve up this Father's Day
Here at Four Square, we're all about keeping things simple. Why slave over a five course gourmet brekky when you can relax with some good kai and enjoy spending time with Dad?
Here are our top picks for the best no cook breakfasts to make Dad's day - read on for more info!
Smoked salmon and cream cheese bagels

Smashed avocado bagels

Peanut butter, jam, banana and berry bagels

Croissants

Overnight oats

Brunch boards

Breakfast drinks
Does anyone know what date Father's Day is? We have to confess - we had absolutely no idea until we Googled it… Luckily, Dad doesn't usually know either!
Father's Day is one of those holidays that tends to creep up. It's not like Christmas or Easter or Halloween where there are ridiculous amounts of decorations in every shop leading up to the occasion and you'd have to live under a rock to miss it.

No, Father's Day just pops up out of nowhere each year - and before you know it, it's the next day and you still haven't got Dad or Hubby a gift. You find yourself racking your brains as to how to pretend you didn't forget about it all along. "No, of course I have something planned!" you say at 11pm the night before, wondering how on earth you're going to figure something out before he wakes up the next morning...

We've got your back, because nothing says 'I love you' like a delicious breakfast. After all, it is the most important meal of the day.

But for those of you that aren't keen to spend hours sweating over pots and pans in the kitchen, we bring you the holy grail of lists: the best ever no cook breakfasts to blow Dad away this Father's Day.

The most work you'll have to do is some assembly (and potentially a quick trip to your nearest Four Square first thing in the morning!). Best Father's Day breakfast ever!
1. Toasted bagels with all the trimmings
If you're looking for a satisfying breakfast that will look like you put in waaaaaay more effort than you actually did, look to the humble bagel for breakfast inspiration. It's a step up from toast and just screams 'special occasion'.

Bagels can be dressed up or down, made savoury or sweet, and can even masquerade as a somewhat healthy breakfast if the special man in your life is trying to eat clean. They're also no cook unless you count pushing down the toaster.

Here are some of our favourite bagel breakfast ideas. Serve just one option or host a crowd and serve them all.
Smoked salmon and cream cheese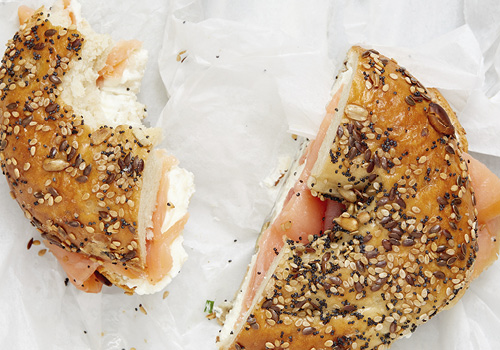 It's a classic for a reason and it can even be counted as a healthy option - salmon is a super healthy protein after all! Pop some capers, sliced red onion and lemon wedges on the top for a fresh and delicious breakfast.
Smashed avocado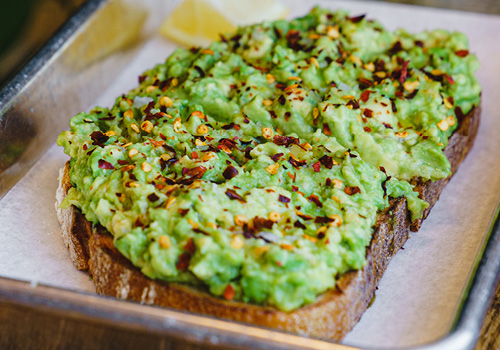 Everyone loves a good smashed avocado. It's creamy, delicious and full of good fats for nutrition - win, win, win!
Mix your creamy avocado with some feta, plenty of pepper and a sprinkle of smoked paprika for a healthy and tasty brekky or brunch. You can even add some red pepper flakes for aesthetics and spice.
Peanut butter, jam, banana and berries
Okay so first, a disclaimer - we're not suggesting that you put all of these sweet options on the bagel at once. Not unless you're going for a 'my kid made this sickly sweet concoction' vibe, and in that case, go for it!
There's no exact recipe when it comes to sweet breakfast bagels though, so load up whatever delicious items you reckon Dad will love into some serving bowls, then let him choose what he fancies.
You could even embrace your inner Nigella and whip up some delicious vegan cream cheese - perfect for creating the Pams Vegan Cream Cheese Bagels.
Some of our favourite sweet options are:
Sliced banana
Almond butter or peanut butter
Maple syrup or honey
Cottage cheese
Cinnamon
Nutella or any other creamy spread
Strawberry jam
Fresh berries
And your choice of any different fruits that you know he loves!
Bonus option - ditch the bagels and grab the croissants
For another no cook breakfast option, consider ditching the bagel and turning to the croissant instead. These flaky and delicious pastries can be heated in a microwave, baked in the oven, or even grilled in a sandwich press. Use any of the toppings that you would with a bagel or on toast.
You can even push the boat out and get into the really decadent toppings - like fresh cream, frozen berries, ice cream, chocolate sauce or sliced nuts and seeds.
2. Overnight oats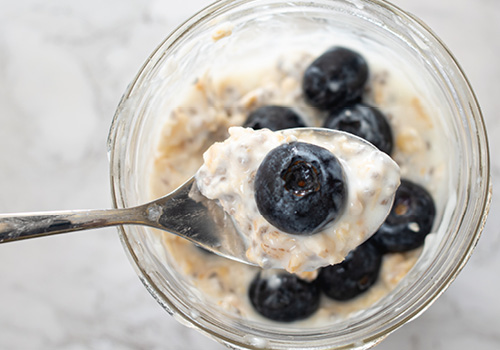 If you're serving breakfast to a health nut, you might have read the last section with a grimace on your face. Sure, some Dads might love a bagel or croissant packed with all the good stuff, but you know the Dad in your life will be questioning the nutritional value before he's even taken a bite of breakfast.
Don't stress. Our list has options for every type of Dad, from the super healthy to the super indulgent.
These easy options need to be prepped the night before. So if you've remembered Father's Day at 11pm, don't panic because you still have time. Perfect for busy mornings or Father's Day celebrations you forgot until the night before. Bonus – it's endlessly customisable!
These healthy breakfasts are as easy as stirring together a few ingredients in a mason jar, placing it in the fridge overnight and then enjoying them the next morning.
Here are our favourite base ingredients. This recipe is delicious and filling all on its own but you can be as creative as you like with toppings and mix-ins.
Base ingredients:
Rolled oats (use gluten free if you're serving to a gluten-sensitive group)
Milk - dairy, almond milk, oat milk or cashew milk are all good options. You can even use water, depending on how creamy you like it.
Yoghurt - simple Greek or dairy-free yoghurt will provide creaminess, protein and a perfect touch of tangy flavour.
Chia seeds - these magical little seeds gel up in the oats to make the mixture creamy and thick. They're also loaded with health benefits.
Maple syrup or honey - add as much or as little as you like to give a touch of natural sweetness.
Other tasty toppings:
From fresh fruit to seeds to yoghurt, there are no right or wrongs when it comes to these tasty treats. Some of our favourite flavour combinations include:
Nut butter - choose your favourite nut butter like peanut butter or almond butter, and stir it in or drizzle it on the top. It will provide an awesome protein boost!
Fresh fruit - make the most of seasonal fruits like banana, sliced apples, berries, peaches and pears.
Nuts, seeds and granola - adds crunchy texture! Try sliced almonds, sunflower seeds or toasted sesame seeds.
Spices - cinnamon, nutmeg, cardamom or ginger all add great variety to your breakfast.
Dried fruit - raisins, sultanas, chopped dates, cranberries and goji berries lend a chewy texture and fruity flavours
3. Brunch board
If you're looking for one of the easiest breakfast recipes of all time, give our brunch board a try.
Essentially, this is just a giant platter filled with a bundle of no-cook breakfast items. It can be served at any time of the morning - somewhere between breakfast and lunch - and it can contain anything and everything that you and the special Father in your life fancy. Picture the ultimate snack grazing breakfast, filled with all your favourites. Seriously, we would eat like this every day if we could!
Remember, this can be as simple or as elaborate as you want to make it. But bear in mind that just because it doesn't have a cook time doesn't mean it takes no time to put together at all, so leave a bit of time for assembly!
Some of our very favourite brunch board additions are:
Granola
Greek yoghurt
Smoked salmon
Cream cheese
Hard boiled eggs
Fresh fruit or dried fruit
Avocado (or even avocado toast!)
Toast, bread, bagels, croissants or crackers
Cheese
Prosciutto
Biersticks
Honey, jam and peanut butter
Chia seeds, nuts and yogurt parfait
Smoothie bowls or cups - we just love this Morning Smoothie Bowl. Bonus - the bright colours really pop on any brunch board.
Serve enough tasty treats and you'll find yourself still snacking at lunch and later that night!
4. Breakfast drinks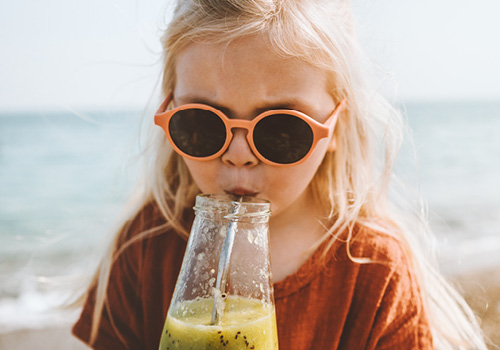 Finally, it wouldn't be a truly satisfying breakfast without a nice drink on the side to wash it down.
Whether Dad prefers a simple coffee, tea, or fruit juice straight from the fridge, or he'd rather a fancier smoothie or mimosa, make sure you remember to offer up a nice beverage to complete the perfect Father's Day breakfast.
What'll it be today? Your nearest Four Square is never too far. Find your local store today and pop in to whip up the perfect easy breakfast, lunch or dinner.