5 Awesome Christmas Day Cheese Boards
Meri Kirihimete! Christmas Day is just around the corner, so it's time to start putting up trees and planning menus. Of course, when you have the whole whanau round for Christmas Day lunch, it's always a good idea to put out a platter for nibbles before the main meal. That way, there's something for everyone and you don't have to worry about cheeky cousins hanging around the barbie for offcuts. What better way to serve up a little bit for everyone than the good old fashioned trusty cheese board? We've got loads of ideas for cheese platters right here for you to keep the family fed (and show off a little while you're at it).
Essential cheese board ingredients
Ultimately, there are no hard and fast rules about what can or can't go on a cheese board. One great way to serve up a platter for less is to check out our virtual mailer for your local Four Square specials. Here are a few tips to get you thinking.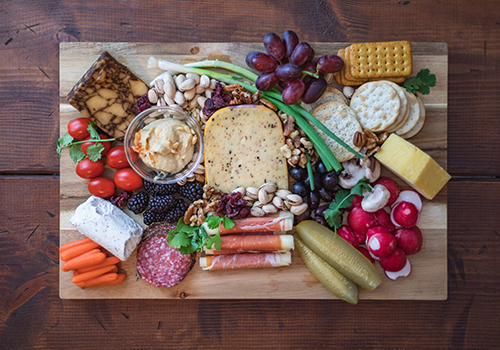 Different types of cheese
You can't have a cheese board without cheese!
Aim for 1-3 different types of cheese. One is usually enough for a small crowd, but more means there's plenty of options for everyone..
You could go for cheeses made from different milks, such as one cow's milk cheese, one sheep's milk and one goat's milk.
Or mix it up with different cheese hardnesses. For example, pick a soft Camembert, a semi-hard cheese like Maasdam and a sharp English cheddar.
Blue cheese can be divisive, but when someone loves it, it can be a real hit. Pair it with bold and bright flavours like sun dried tomato, beef or dried apricots.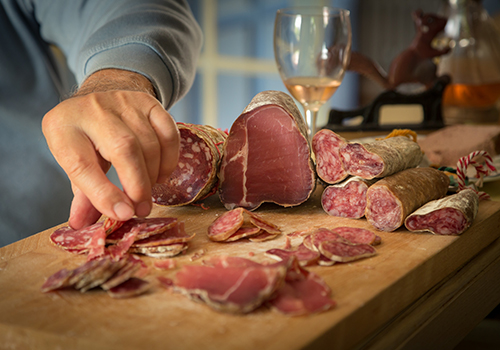 Cold meats for cheese platters
Meat and cheese pair together like Kiwis and the beach. Here are some popular cold meat options.
One or two types of cold meat is usually enough.
Prosciutto is thinly sliced cured ham. Because it's so thin, it can crinkle up on the board and makes lots of great visual textures. Plus it's salty, rich and delicious!
Salami is a super-tasty, popular option. Choose mild salamis for kids and spicy chorizo for the adults.
For a real festive platter, thinly slice some of your Christmas ham for your board. Just make sure there's plenty left for later.
Cold roast beef or pastrami are delicious options for anyone who doesn't eat pork, or to add just a bit of variety to the plate. You can even cook and slice your own eye fillet for the platter.
Seafood lovers should try smoked or cured salmon with cream cheese or an aged Brie.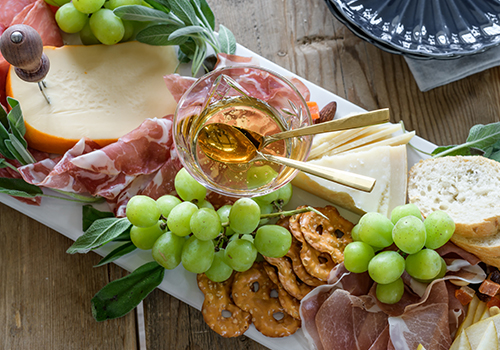 Fruits and vegetables for cheese boards
Break up all the richness of cheese and meat with some bright seasonal fruit.
Just about any fruit imaginable can go on your cheese board. Some common options are: grapes, berries, cherries, pear and apple slices, figs, stone fruit like peaches, apricot and plums.
You can also cut up crisp veggies like carrots, capsicum, celery and cucumber for your cheese board, alongside your favourite dipping sauce.
Dried fruits are also great for cheese boards. Try dried apricots, craisins, banana chips, dried mango or apple chips.
Fruit pastes are a cheese board staple and pair deliciously with lots of cheeses. There's all sorts of options available like quince, fig or plum. Or use leftover cranberry sauce from the Christmas turkey!
Preserved fruits and veggies are also popular on a cheeseboard: think cornichon pickles, kalamata olives, sun dried tomatoes and stuffed baby peppers.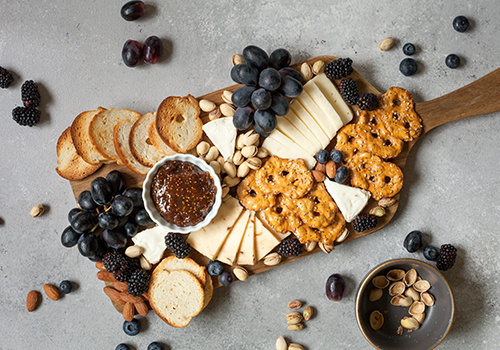 Crackers, bread, dips and chocolatE
A cheese board is often best enjoyed with an assortment of carbs like bread and crackers to use as the "vehicle" for the cheese. Try out these:


Plain options like water crackers or salt crackers are an easy fit on any cheese board because they don't add any extra complicated flavours.
Cheese board cracker assortment packets are a great way to save time and money, giving you lots of options for your platter.
Specialty crackers often have oats, nuts, seeds and dried fruit in them. They can be very popular, but don't go overboard if you've already got a lot of those things on your platter.
Fresh bread is a great pick for a cheese board too, like a crusty baguette, ciabatta or sourdough. Just slice it up into bite sized pieces and serve.
You can put any dip you love on your platter in small ramekins, or just in the jar it comes in. Try hummus, tzatziki or even guacamole!
Cheese and chocolate might sound odd together, but you might be surprised how well it works. Buy a block of your favourite chocolate treat, break it up and scatter it around your board in all the gaps.
Platters for vegetarians and vegans
Vegetarians love cheese too — just be sure to check the ingredients for animal rennet. This is an enzyme from cows that isn't considered vegetarian.
There are also plenty of great vegan cheese options now. Cheese alternatives from Angel Food and Savour are available at select Four Square stores.
For both vegetarians and vegans, you'll want to avoid deli meats. Instead, load up your cheeseboard with plenty of seasonal fruits like strawberries and cherries, as well as savoury olives, sun dried tomatoes and bread.
Nailing your Christmas cheese board presentation
Cheese board presentation is key if you're aiming to impress! There's not really any cooking involved in making cheese platters, so it all comes down to how you put it together.


Start by taking your cheese out of the fridge for about an hour before serving. Most cheese should ideally be eaten at room temperature.
Place your different types of cheese around the board with even distance between them. Take a cheese knife and cut a few slices from each cheese, leaving them next to the block. This helps to "invite" your guests to partake, showing the cheese is there to be eaten.
If serving dips or pastes in ramekins, place these next. Make sure there's plenty of space around them.
Then, if using meats, arrange them around the cheeses they'll pair best with. Folding salami slices and crinkling prosciutto will add lots of levels and texture to the platter.
Now, go in with your bread and crackers. You may not be able to get them all on the board. No worries, just top them up from the kitchen when you're running low.
Finally, fill in the small gaps with your fruit, veggies, nuts and chocolate. You can even garnish the boards with any leftover herbs or salad leaves from Christmas lunch.


Pairing wine with your cheese board
If you want to go all out, pick cheeses that match the wine you've bought for Christmas. Here are a few tips:


Pinot noir goes well with Gruyere, Maasdam or Comte.
Champagne and sparkling wine pairs nicely to Brie or Camembert.
Sauvignon blanc pairs well with goat cheese like Chevre.
Cabernet sauvignon pairs beautifully with aged cheddar or parmesan.
Rose works a treat with Havarti or mozzarella.
Riesling is delicious with a mild cream cheese like ricotta.
Chardonnay also pairs delightfully with Gruyere or Havarti.
5 cheese board ideas sure to impress this Christmas

1. Classic Kiwi Christmas cheese board
This simple cheese board has a little bit of something for everyone.


Hard blue cheese
Brie or Camembert
Havarti
Creamy blue cheese
Dried mango
Chicken pate
Hummus
Basil pesto
Breadsticks wrapped in prosciutto
Hungarian salami
Feta-stuffed peppers
Pretzels
Seed crackers
Cranberry and pumpkin seed crackers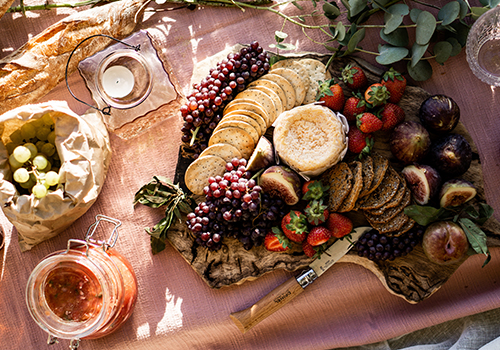 2. Summer fruits washed-rind cheese board
When you're just feeding the immediate family, a small board like this one will do the trick perfectly. A wash-rind cheese is a particularly pungent cheese that's loaded with flavour — a real talking point for Christmas!
Washed-rind cheese
Water crackers
Nut and seed crackers
Red or green grapes
Strawberries (use your favourite summer berries)
Figs (swap out for red plums, dried figs or medjool dates if unavailable)
A relish or dip of your choice on the side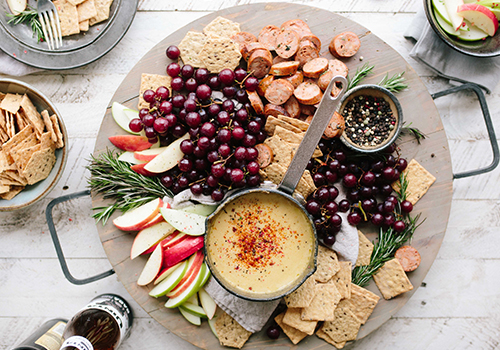 3. Hot cheese platter
What's more exciting than ooey-gooey melted cheese? This cheese board uses a melty cheese dip as its main cheese component. You could use a wheel of brie baked in a ramekin with nuts, fruit and honey.
Hot cheese dip (use Gruyere and smoked cheddar for a punchy, gooey sauce)
Sliced crispy fruit like apple, pear or nashi
Crackers and flatbreads
Grapes
Cooked sausage (eg. andouille, chipolatas)
Cracked pepper pate
Fresh herbs for garnish and aroma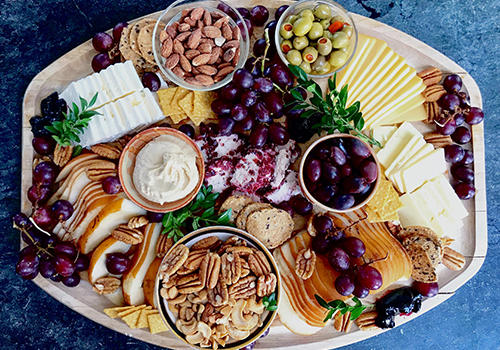 4. Easy-grazing vegetarian sliced cheese and fruit platter
This crackers, cheese and fruit platter is great if you're expecting vegetarian guests. With no meat in sight, this cheese board still has plenty to offer so everyone's happy. Plus, pre-slicing everything ensures it's easy to graze pre-lunch.

Just remember to check the ingredients on your cheese to ensure no animal rennet is used if serving to vegetarians.


Feta
Semi-firm cheese like Havarti or Gouda
Cranberry & macadamia cream cheese
Pears or apples
Grapes
Hummus
Assorted nuts (cashews, almonds and pecans)
Pimento-stuffed olives
Crackers of your choosing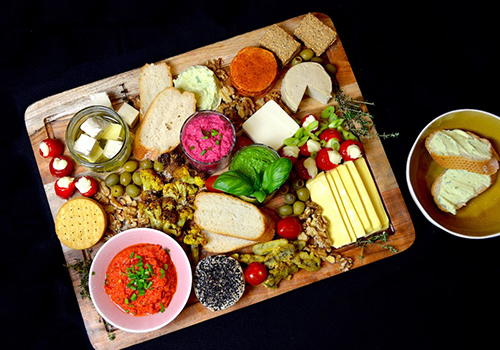 5. Indulgent vegan cheese platter
Who said vegans can't enjoy cheese too? There are lots of great vegan cheese alternatives available at select Four Square stores nationwide.


Assorted vegan cheese (feta, cheddar, mozzarella)
Sliced baguette
Roasted spiced cauliflower florets
Vegan dips (eg. dairy-free pesto, hummus)
Assorted nuts
Oat crackers and water crackers
Kalamata olives
Vegan stuffed peppers (make your own with vegan feta or cream cheese)
Sliced spring onions for garnish


Wherever you are in New Zealand, everything you need to make a cracking Christmas cheese board is waiting for you at your nearest Four Square. We'll see you there!