Sandwiches are one of those foods that virtually everyone loves. They're super convenient for a lunch on the go or for the little ones, and can come in so many shapes, sizes and flavours.

This summer, make lunchtime easy with on-the-go sandwiches using ingredients from your local Four Square. Of course, if you're in the area, there's no way you can go wrong with one of Te Anau Four Square's world famous lamb sandwiches.

But if you aren't in Te Anau, there's plenty of ways to enjoy a great sandwich with a little help from your local Four Square.

Here are some of our favourite easy sandwich ideas.

1. Grilled veggie and chicken sandwich
Chicken is one of the easiest proteins to get your kids to love, and it's just as good for adults too. You can use any kind of bread for a great chicken sandwich, but we love using a panini or pita pocket for this sandwich because they keep all the yummy bits together.

Load up your pita pocket with grilled chicken or precooked shredded chicken which you can find at your local Four Square deli section. Then throw in any leftover roasted veggies you may have in the fridge. Pumpkin, kumara and capsicum all work wonderfully but really any veggies work.

2. Easy deli ham club sandwich
Club sandwiches are ideal for kids holiday lunches because they're quick and easy to make and are usually cut into quarters, so kids can eat as much or as little as they need.

Start with two slices of white whole wheat bread. Spread mayonnaise or margarine on both slices, then layer your sandwich with slices of tomato, deli ham, and iceberg or cos lettuce. Cut the sandwich into quarters and serve, or wrap in cling film for later.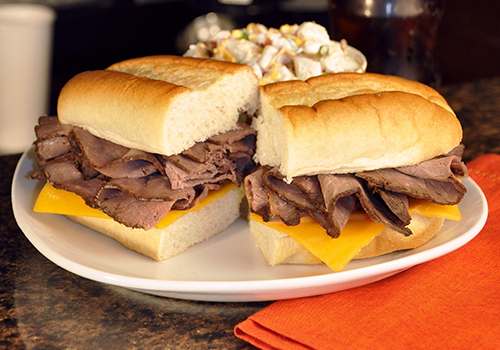 3. Philly cheesesteak-inspired roast beef sandwich
Mm-mm-mmm for a bit of a treat, why not make your own Philly cheesesteak inspired sandwich? Usually, this irresistible sandwich uses freshly cooked steak and melted cheese in a long roll, but you can throw one together using fillings straight from your local Four Square service deli.

Use roast beef slices and cut-to-order cheese in a nice fresh long roll. Alternatively, pop it all in a sandwich press for a couple of minutes just to melt the cheese.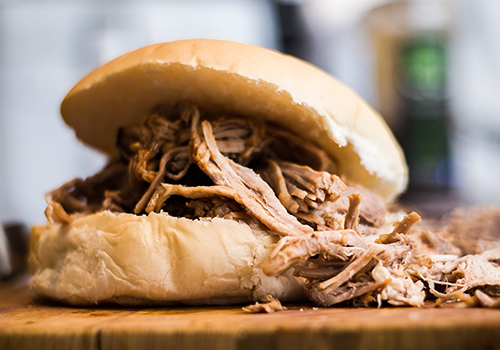 4. American BBQ pulled pork sandwich
The pulled pork sandwich is an American barbecue classic, but that doesn't mean you can't enjoy it on your Kiwi summer holiday. Pick up some pulled pork straight from the fridges at your local Four Square store. This will usually be flavoured with BBQ sauce already.

Then, load up a short roll or burger buns with your pulled pork at fresh coleslaw from the deli for some added veggies. Delish.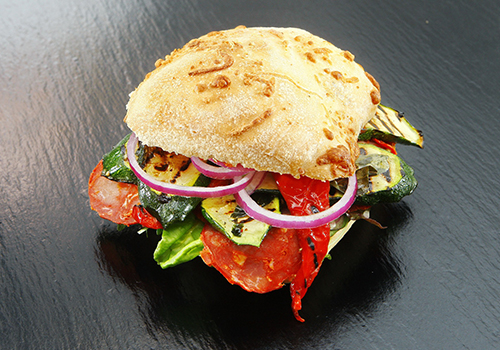 5. Grilled veggies and salami ciabatta sandwich
The day after a big barbecue is the perfect time to make a sandwich. With grilled courgettes, capsciums and onions from dinner last night, throw together a healthy and tasty sandwich in minutes.

We love using an Italian ciabatta roll with slices of hot salami and some fresh lettuce leaves for lots of flavour, texture and chew. Hungry yet?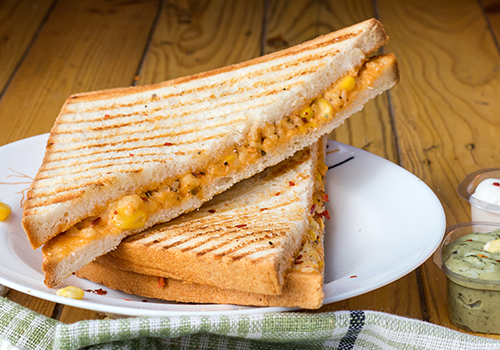 6. Classic Kiwi toasted cheese sandwich
Who doesn't love cheese toasties? When you're on the go for your holiday, you may not want to buy a full block of cheese for sandwiches. That's why Four Square offers cut-to-order cheese at our delis, giving you exactly as much cheese as you need.

A toastie comes together in no time at all, and you can either use a sandwich press or just heat it up on a barbie or a frying pan. We love to try different fillings with cheese, such as crushed pineapple, creamed corn, tinned spaghetti, or diced onion.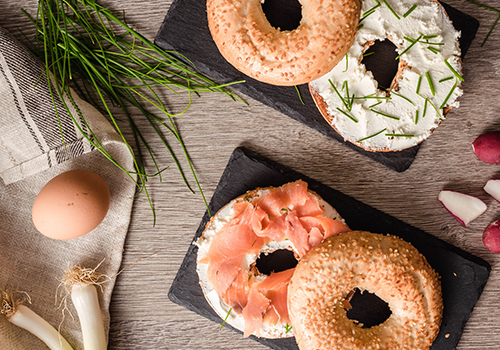 7. Smoked salmon cream cheese bagel
Now here's a classic! Bagels and cream cheese are an unbeatable duo, and adding smoked salmon takes it to the next level. Add a little extra flavour with thinly sliced radishes or spring onions, and garnish with herbs like dill or chives.

This is a great sandwich to have for brunch, if you're stopping for a break a little early.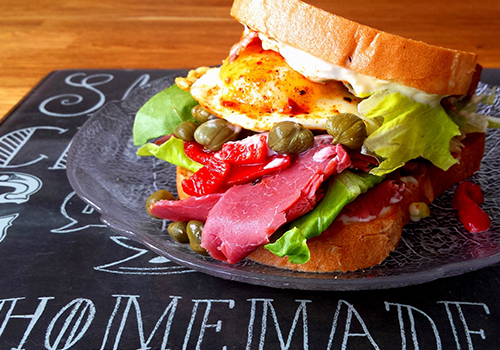 8. New York style pastrami breakfast sandwich
When you're on holiday, sometimes it's important to remember to take it slow. Using a few simple ingredients from your Four Square, you can make an unbeatable breakfast sandwich.

You'll need bread, an egg, a few slices of pastrami, capers, roasted capscium, lettuce and any of your favourite sauces.

Simply fry your egg, season with pepper, and then layer your sandwich with all the ingredients. Capers are super salty little bites that burst with flavour when you eat them. Combined with pastrami and the sweetness of capsicum, this sandwich ticks every flavour box.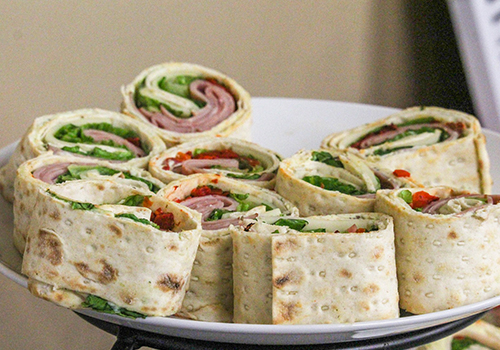 9. Healthy turkey wraps
There are two excellent reasons to love this turkey wrap. One: It's a great way to use up Christmas leftovers. Two: With lean protein and low carb wraps, it's a truly healthy option.

Smear a generous amount of tomato relish over your wrap, then layer slices of turkey and fresh lettuce. Roll the wrap up, and slice into bite-sized portions.

10. Open-faced avocado breakfast sandwich
Smashed avocado is an all-time classic and hard to turn down when avocados are so cheap through summer. This open-faced sandwich uses two slices of toasted bread like sourdough or ciabatta, topped with smashed avocado and perfectly soft-boiled eggs.

The key to this sandwich is to cook the eggs far enough that the yolk isn't running, but isn't dry either. You want a jammy egg yolk, that will blend all the flavours and texture together harmoniously. If you're on the go, cook and peel your eggs in advance and store airtight and cold for up to three days.

Scattering pomegranate arils on your avocado adds delicious pops of freshness, but all you really need to go on top is salt and pepper.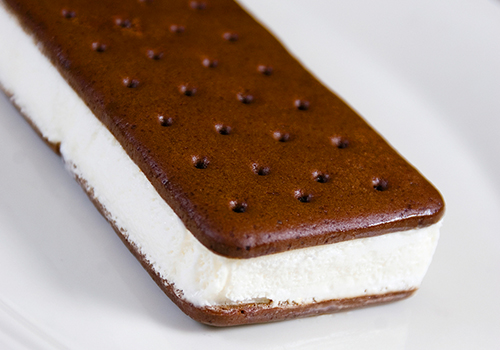 11. Ice cream sandwich
Alright, this last one is a bit cheeky. But when summer in Aotearoa is as hot and fun as it is, everyone deserves a little bit of a treat to cool off.

Pick up a tub of your favourite ice cream from the freezers at your nearest Four Square and a pack of your favourite biscuits, or classic pink ice cream wafers. Let the ice cream get just a little bit soft and then scoop and sandwich it with your biscuits. Yum!

Looking for more lunch time inspiration and sandwich recipes? Check out your local specials in our virtual mailer to see what's on sale.