Mrs Four Square – then and now, my what a difference
Mar 08, 2019 by: Four Square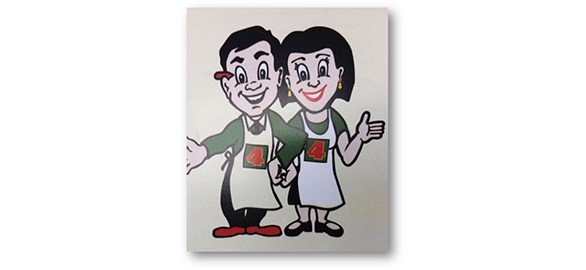 Back in the day Four Square's Cheeky Charlie had a sidekick, Mrs Four Square.
How times have changed, with women in their own right, or with a partner, stepping up to own and operate Four Square supermarkets, bringing with them tertiary qualifications, corporate experience, and fresh thinking under the banner of the iconic Kiwi grocery store. It's very much Ms. Four Square now.
Four Square turns 95 in 2019 – having been founded in 1924. Today there are 241 Four Square stores around the country – 176 in the North Island and 65 in the South Island – making it one of the most ubiquitous retail brands in New Zealand.
Like all Foodstuffs stores, each Four Square is independently owned and operated. But you can't just buy one; prospective owner-operators must satisfy Foodstuffs they have resources, drive and expertise. Four Square ownership can be the first step towards owning a New World or PAK'nSAVE too, due to the industry knowledge and experience required to manage a larger store.
Clare Gallagher bought Four Square Edmund Road in mid-2017, after she and her husband sold the motel they'd opened from new in 2012. Before that Clare was a Private Banker with BNZ Partners.
"These are busy times and Four Square is a dynamic, fast-moving and at times challenging business to be a part of. You must have ensure you have work-life balance, or it is very easy to let your career become all-consuming," Gallagher says.
Further north is Crystal Plummer at Four Square Ngongotaha, which she purchased with her partner two years ago, after a career as marketing manager for an international fine jewellery brand.
"Although it seems a very different industry, I like to see retailing luxury goods as essentially the same as running a supermarket in the sense that in-store shopping must focus its appeal on creating full sensory experiences that are enjoyable and something people look forward to," Plummer says.
Gallagher and Plummer's experiences are similar to those of other women leading Four Square stores for example:
Former Foodstuffs nutritionist, Marie Walters, now at Four Square Cape View in Hastings
Long-serving owner, Trish Fraser, who with her husband bought Frasers Four Square in Oamaru in 1979. They have lived up above the store for 40 years and their family works alongside them now.
Sharanjeet Kalkat who owns two Four Squares at opposite ends of Hastings, in partnership with her husband
Ohope's Claire Blaire, who was 38 weeks pregnant when she went to her Four Square interview
and Foxton Beach's Katrina McGuinn, who despite wearing a big badge saying "Owner" still has people assume her husband is the owner!
When it comes down to it – Four Square has a 95 year history of doing great things in local communities; providing employment, supporting charities, schools and sports clubs and feeding hungry customers. Women have always been part of this – and it's only getting better.