Apple, Cinnamon and Maple Shortcake
I've always been envious of my mother's innate ability to just wing this sort of thing. I know that if I was ever as cavalier while baking it would end up a complete disaster, yet her end result is always spot-on. Naturally, every time I ask her for anything resembling a precise recipe, she is infuriatingly vague. Being a chef, I daren't improvise with baking so this is my take on what she does. I bet she'll tell me it's 'passable'!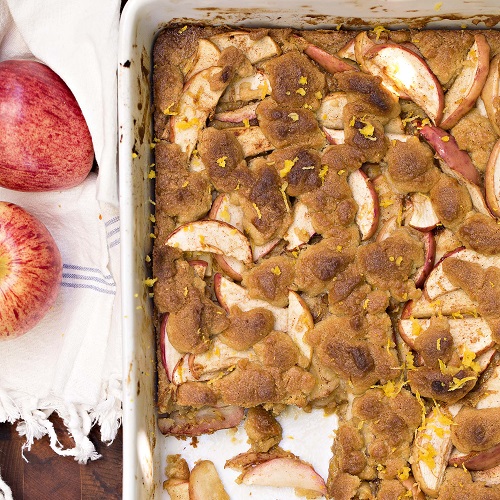 2 large apples, cored and thinly sliced
zest and juice of 1 lemon
3 tbsp maple syrup
250 g Pams butter
¾ cup Pams brown sugar
1 egg
1 tsp vanilla essence
2½ cups Pams plain flour
2 tsp Pams baking powder
½ tsp ground cinnamon
View the method
Pre-heat the oven to 180ºC.
Grease a shallow baking tin (approximately 35 x 25 cm) and line with baking paper.
Combine the sliced apple, lemon zest and juice and maple syrup together.
In a large mixing bowl, beat together the butter and brown sugar until light and fluffy.
Add the egg and vanilla essence and beat in well.
Sift in the flour, baking powder and cinnamon and fold into the mixture until everything is combined.
Press two-thirds of this mixture into the lined tin, then spread the apple mixture over the top, pouring any syrup over as well.
Dot the remaining third of the mixture over the top, pop in the oven and bake for about 30 minutes, until risen and golden.
Allow to cool in the tin before cutting into squares and devouring.
Back to ingredients