Bread and Butter Pudding with Creme Anglaise
Images from The Great New Zealand Baking Book copyright © Lottie Hedley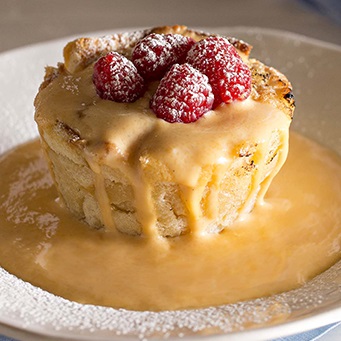 1 loaf sandwich-sliced white bread, crusts removed
1/3 cup unsalted butter
1/3 cup Grand Marnier
1½ tbsp raisins
1½ tbsp mixed citrus peel
1½ tbsp apricot conserve
6 whole eggs
4 egg yolks
100 g Pams sugar
2 cups Pams milk
2 cups Pams cream
Pams brown sugar, for dusting
whipped cream, to serve
2 cups Pams milk
1 vanilla pod, split open
6 egg yolks
75 g Pams caster sugar
View the method
For the pudding, cut bread to fit the bottom and sides of six individual large ramekins (9 cm across and 5–6 cm deep), and cut six rounds to act as tops. Butter all bread on one side and line the ramekins, butter side out.
Sprinkle bread lining with Grand Marnier. Place a portion of raisins, mixed peel and apricot conserve in each ramekin. Beat eggs, egg yolks, sugar, milk and cream with a whisk until thoroughly combined, then ladle custard mixture evenly into each ramekin, saving a little for topping up.
Leave to rest for 5 minutes, allowing the bread to soak up the custard. Pre-heat oven to 180°C.
Top up each ramekin with custard and place a bread lid on each, butter side up. Dust lids with brown sugar. Bake for 30 minutes or until custard is set.
For the crème anglaise: heat milk, add vanilla pod and leave to infuse for about 10 minutes. In a separate bowl, whisk egg yolks and sugar together. Bring heated milk up to the boil and pour onto the egg yolk mixture. Mix thoroughly.
Place combined egg yolk and milk mixture into a clean pan. Over a low heat, stir gently with a wooden spoon until the sauce thickens and coats the back of the spoon. Leave to cool, then pass through a sieve. Make sure you do not let this sauce boil, or it will curdle.
To serve, run a knife around the inside of the ramekins and carefully remove the bread puddings. Serve with crème Anglaise and a quenelle of whipped cream. Garnish with a few strawberries if wished.
Back to ingredients