Broccoli and Cauliflower Cheese Bake
Scrumptious recipe - the kids will eat all of it!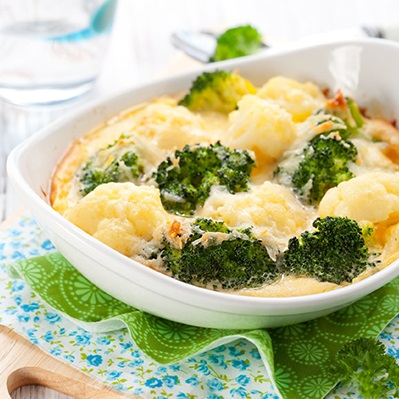 650g bag Wattie's frozen Broccoli & Cauliflower Medley
4 rashers lean bacon, diced
25g butter
1 leek, sliced and washed
3 Tbsp flour
1 3/4 cup milk
1/2 cup grated tasty cheese
1/2 cup fresh breadcrumbs (for topping)
1/4 cup grated cheese (for topping)
View the method
Place the Wattie's frozen Broccoli & Cauliflower Medley in a microwave proof bowl. Cover and cook on high power for 5 minutes. Give the bowl a shake and then cook for a further 2-3 minutes until vegetables are just tender. Drain off any excess water. Pat the vegetables dry with a clean tea towel or paper towels.
Place vegetables in a lasagne style dish. Preheat oven to 180°C fan bake.
Cook bacon in a dash of oil in a small frying pan. Set aside. Melt the butter in the saucepan and gently cook the leek until softened. Add the flour and stir. Gradually add the milk stirring continuously over a medium heat until the sauce thickens and boils. Reduce heat and simmer a further minute. Remove from the heat and stir in the grated tasty cheese and cooked bacon. Season to taste. Pour the sauce over the vegetables.
Sprinkle the topping over the sauce. Bake for 10-15 minutes, until top is golden and vegetables are hot.
For the topping, mix fresh breadcrumbs and cheese together.
Back to ingredients