Chewy Cashew, Ginger and Honey Cookies
Images from The Great New Zealand Baking Book copyright © Lottie Hedley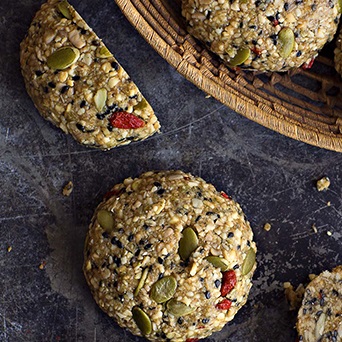 ½ cup honey, chilled
2 cups cashew nuts
1 tbsp ginger powder
½ cup pumpkin seeds
½ cup sunflower seeds
¼ cup white sesame seeds
¼ cup black sesame seeds
¼ cup goji berries
½ tsp vanilla bean powder or paste
½ tsp Himalayan sea salt
3 tbsp coconut oil
View the method
Beforehand, place honey in refrigerator to harden so that it will bring the mixture together well.
You can use either a dehydrator or your oven to 'bake' the cookies. If using the oven, pre-heat it to 100°C and line an oven tray with non-stick baking paper.
Place cashew nuts, ginger, seeds, goji berries, vanilla and salt in a food processor and blend for 10 seconds to break down ingredients. Add coconut oil and honey, and blend further until ingredients are well mixed and the texture is sticky.
Place 2 tablespoon-sized heaps in one hand, and roll into balls. Place onto dehydrator tray or oven tray and flatten carefully with your palm. Leave in dehydrator for 8 hours, or in oven for 30 minutes, until preferred consistency is reached.
Back to ingredients