Chicken Stack
A tower of taste - and looks impressive to boot. A great dish to add to your repertoire for a café style lunch at your place.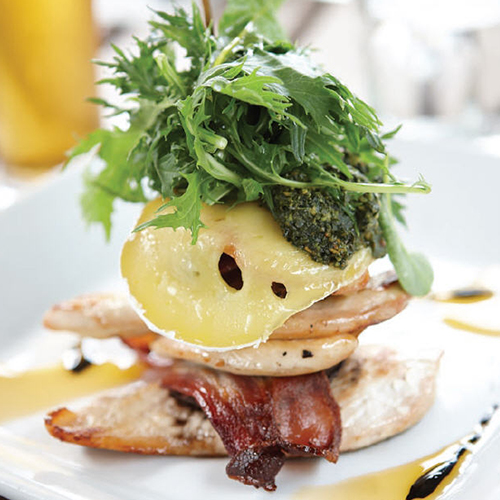 4 x 250g chicken breasts, cut lengthways through the breast
12 slices of streaky bacon lightly cooked
8 large cooked portobello mushrooms (field mushrooms)
4 slices camembert cheese
4 handfuls mixed salad leaves
2 tablespoon basil pesto
lemon oil
olive oil
salt and pepper
4 x four to six inch skewers
View the method
Heat a skillet or hot plate. Oil well, place slices of chicken and season with salt and pepper. Cook for 3-4 minutes on each side, trying not to colour the meat too much. Remove from heat.
Compile four towers of chicken, mushroom and bacon in that order, with three slices of chicken in each tower. With the last piece of chicken at the top, push skewer through centre to hold.
Place in 180°C oven for another 7 or 8 minutes.
Remove from oven and push a cheese slice down each skewer. Place 1/2 a tablespoon of basil pesto on top of cheese and a small handful of mixed lettuce leaves on top of pesto. Drizzle with lemon oil and carefully transfer to plates.
Back to ingredients