Choc, Banana and Marshmallow Toastie
For an extra special treat try topping our chocolate, banana and marshmallow toasties with a scoop of Pams Finest vanilla ice cream.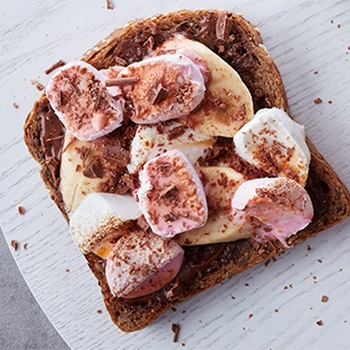 2 slices Pams Roasted Malt and Barley Bread
2 tablespoons Pams Smooth Hazelnut Spread
1 medium sized banana, sliced
8 pink and white marshmallows, halved
6 pieces milk chocolate, grated
View the method
Lightly toast the bread slices.
Spread generously with chocolate hazelnut spread.
Cover with sliced banana and then top with marshmallows.
Place under a hot grill or heat with a kitchen blow torch until the marshmallows are just lightly toasted.
Sprinkle with grated chocolate and eat at once.
Back to ingredients