Chocolate Brownie with Caramel
This brownie is great for afternoon tea. You can even have it for dessert – serve the brownie warm with a scoop of Pams Vanilla dairy dessert and drizzle generously with caramel.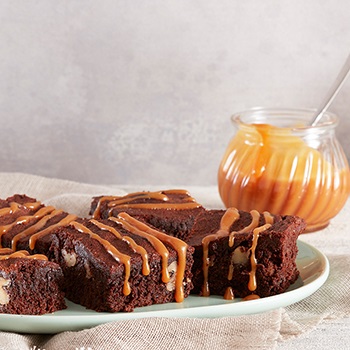 1 cup Pams white sugar
¼ cup water
110g Pams butter, roughly chopped
1 cup Pams cream
200g Pams Finest dark chocolate chunks
250g Pams butter, softened
1 cup Pams sugar
4 Pams eggs
¾ cup Pams flour
3 tablespoons Pams cocoa
1 teaspoon Pams baking powder
70g packet Pams ground almonds
70g packet Pams walnuts, roughly chopped
View the method
To make the caramel, place the sugar and water into a small saucepan over a gentle heat, stirring regularly until boiling. Once it reaches the boil leave without stirring until the syrup starts to change colour. As it changes from golden to amber, quickly remove the pan from the heat and carefully drop into the butter. Gently whisk until melted and then pour in the cream and mix well. If the mixture solidifies then return to a gentle heat to dissolve.
Extra caramel can be kept in a sealed container in the fridge for around 5 days.
To make the brownie, preheat the oven to 160°C and line a 32x18cm slice pan with baking paper.
Gently melt the chocolate in a bowl over a saucepan of simmering water or in the microwave on reduced heat.
In a mixing bowl beat the butter and sugar until light and fluffy.
Mix in the eggs one at a time, mixing well after each egg is added.
Add the combined flour, cocoa, baking powder and almonds and then the melted chocolate. Lastly stir through the walnuts.
Pour the mixture into the prepared pan.
Bake for 30 minutes or until the surface starts to crack and is firm to the touch.
Allow to cool in the pan. Serve cooled or as warm brownie drizzled with caramel.
Back to ingredients