Chocolate Fudge Cake with Creamy Frosting
Indulge in this incredibly divine cake, topped with a creamy frosting and toffee hazelnuts.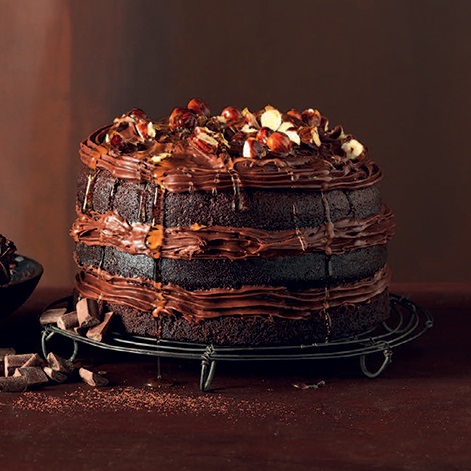 125g Pams Real Dark Chocolate Chunks
1 cup strong black coffee
1 tsp Pams Vanilla Essence
1 cup Pams Standard Milk
2 eggs
1/3 cup Pams Canola Oil
1 1/2 cups Pams Self-Raising Flour
1/2 cup Pams Ground Almonds
1 1/2 tsp Pams Baking Soda
1 cup Pams Brown Sugar
2 tbs Pams Cocoa Powder
125g Pams Real Dark Chocolate Chunks (frosting)
10g Pams Butter (frosting)
1/4 cup Pams Cream (frosting)
1 cup sour cream (frosting)
1/4 cup Pams Liquid Honey (toffee hazelnuts)
1/2 cup Pams Hazelnuts (toffee hazelnuts)
View the method
Pre-heat oven to 170°C. Line a 19cm tin with baking paper.
Place chocolate chunks in a glass bowl and pour over hot coffee. Stand for 2 minutes then whisk until smooth. Add vanilla, milk, eggs and oil, then whisk until well combined.
In a bowl, combine remaining dry ingredients. Add chocolate mixture and beat on low for 1 minute, then increase speed and beat a further 2 minutes until smooth and glossy. Pour into tin. Bake for 45 to 50 mins. Leave to cool completely, then slice into 3 layers.
For the frosting, combine chocolate, butter and cream and heat gently in the microwave or over a double boiler, stirring until melted and smooth. Cool for 20 to 30 minutes, then beat in sourcream until thick and fluffy. Chill.
For the toffee hazelnuts, heat honey in a frying pan until bubbling and golden. Add hazelnuts and cook 2 to 3 minutes until coated and syrupy. Pour onto a lined tray and leave to set. When hardened, chop roughly and store in an air-tight container. Place the base of the cake on a plate. Sandwich cake layers with frosting and decorate with remaining piped frosting and toffee nuts.
Back to ingredients