Chocolate Goldrush Frypan Brownie
Over the years we have done lots of different variations with this frypan brownie, as it is always on our menu in some form. But this is our all-time favourite. The recipes does not have a large amount of flour in it and can easily be made gluten free by using a gluten-free flour to replace the plain flour. At Cibo we make our own gluten-free flour blend, but you can use any supermarket blend.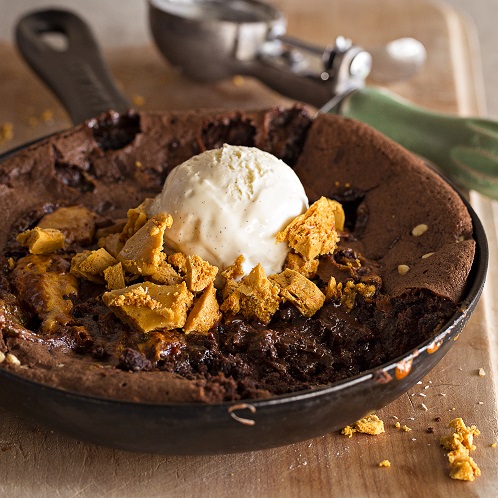 5 tbsp Pams caster sugar
2 tbsp golden syrup
1 tsp Pams baking soda
55 g Pams plain flour, sifted
½ tsp Pams baking powder
½ tsp sea salt
220 g dark chocolate
75 g unsalted butter
4 Pams eggs
120 g Pams caster sugar
85 g Pams soft brown sugar
1 tsp vanilla bean paste
85 g dark chocolate chips
85 g milk chocolate chips
70 g hokey pokey pieces (or you can use a cut-up Crunchie bar), plus extra to serve
vanilla ice cream, to serve
View the method
For the Hokey pokey, in a saucepan, bring sugar and golden syrup to the boil, slowly stirring all the time as it tends to burn easily.
Once it has come to the boil, reduce the heat and simmer without stirring for approx. 4 minutes.
Remove the pan from the heat and add baking soda – stir it in quickly as it froths up.
Pour mixture onto a piece of baking paper and set aside to cool.
Break into pieces and store in an airtight container until needed. Any leftovers can be kept in the freezer for later use.
For the brownies, pre-heat oven to 170°C.
Combine sifted flour, baking powder and salt in a container and put to one side.
Gently melt dark chocolate and butter together in a bowl set over a pan of simmering water.
Whisk the mixture until combined and set aside to cool slightly.
In an electric mixer, whisk eggs and both sugars together until the mixture is pale and thick; 5–8 minutes.
Add vanilla bean paste and then drizzle in the cooled chocolate mixture, beating until well combined.
Fold in the flour mixture. Finally, fold in the dark and milk chocolate chips and then the hokey pokey.
Pour batter into 6 small individual frypans or two 20 cm pans and place in the oven for 20–30 minutes or until set.
If making in the larger pans, cut into wedges.
Serve immediately with a scoop of vanilla bean ice cream and an extra sprinkle of hokey pokey.
Back to ingredients