Christmas Pudding
Lauraine Jacobs has childhood memories of her mother Pat Stevens' Christmas pudding filled with silver coins. 'We ate it because we wanted to find the money, but grew to appreciate the almost feather-light qualities as we grew older.' The recipe has been handed down from Pat's mother, Laura Protheroe, and Lauraine will ensure that it continues to be a family favourite every year.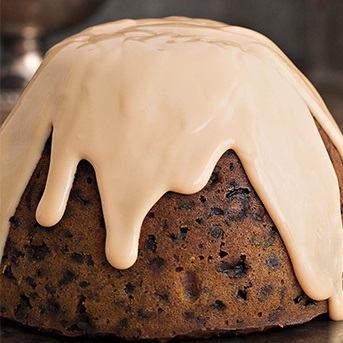 250 g raisins
250 g sultanas
250 g currants
250 g Pams butter
250 g Pams brown sugar
5 Pams eggs
125 g Pams plain flour
½ tsp ground cinnamon
½ tsp mixed spice
½ tsp Pams salt
1 tsp Pams baking powder
250 g soft white breadcrumbs
1 packet (150 g) glacé cherries, cut in half
grated rind of 1 orange
½ tsp each of vanilla and lemon essence
4 tbsp brandy or rum
View the method
Place the raisins, sultanas and currants together in a saucepan with just enough water to cover and boil for 1 minute.
Drain and leave to cool.
Cream the butter and sugar together until light and fluffy.
Add the eggs, one by one, beating well after each addition.
Sift the flour, spices, salt and baking powder together and add to the egg mixture with the breadcrumbs.
Stir in the cooled mixed fruit, cherries, grated orange, essences and brandy.
Pour into a greased 8-cup basin (or pudding steamer) and cover tightly with aluminium foil.
Place the basin in a large, deep saucepan. Add water to fill the saucepan at least halfway up the side of the basin, and bring to the boil.
Reduce the heat to a simmer, and simmer for 4½ hours. Make sure that the water level doesn't drop too low, topping up with boiling water as necessary.
After 4½ hours, carefully remove the pudding basin from the saucepan. Leave to stand for 30 minutes to cool a little before turning out onto a plate.
Serve with warmed custard, and ice cream.
Back to ingredients