Dark Choc Brownies
These dark chocolate brownies will satisfy even the most demanding chocolate fan!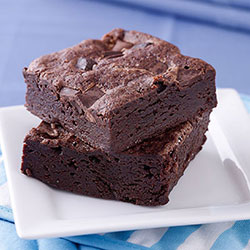 185g Pams Dark Choc Buttons
125g Pams Butter
2 Pams Eggs, lightly beaten
1 cup Pams Caster Sugar
1 tsp Pams Vanilla Essence
1 cup Pams Plain Flour
2/3 cup (70g) Pams Walnut pieces, finely chopped (optional)
View the method
Preheat oven to 180°C. Grease and line base of a deep 20cm square cake tin.
Place chocolate and butter in a large heatproof bowl. Place over a pan of gently simmering water on low heat.
Stir until chocolate melts and mixture is smooth. Remove from heat.
Stir in egg, sugar and vanilla extract then fold in the flour and walnuts.
Spoon the mixture into the cake tin. Bake for 20-25 minutes, until sides shrink slightly from pan.
Cool before cutting into squares. Dust with icing sugar and serve.
Back to ingredients