Fluffy White Chocolate Easter Chicken Creme Egg Cupcakes
These Easter chick cupcakes are very cute and will brighten up your children's Easter holidays!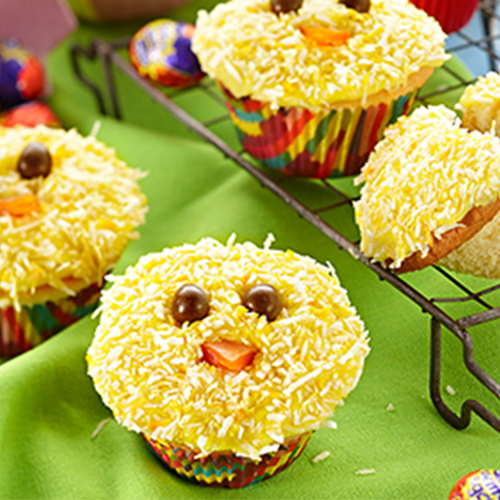 125g butter, softened
3/4 cup caster sugar
1 teaspoon vanilla
2 eggs, lightly beaten
1½ cups SR flour
½ cup milk
12 CADBURY Creme Eggs Minis, unwrapped
250g CADBURY White Chocolate Melts
½ cup pure cream
yellow food colouring
1 cup shredded coconut
24 brown CADBURY Mini Drops, for decorating
2 dried apricots, cut into triangles, for decorating
View the method
CREAM together the butter, sugar and vanilla until light and fluffy. Gradually beat in the eggs, beating well between each addition. Add the flour, milk and food colouring and stir until combined. Spoon half of the mixture into 12 x 1/3 cup capacity paper lined muffins pans. Place a Crème Egg in each, then top with remaining mixture.
BAKE in a moderate oven 180°C for 15-20 minutes or until cooked when tested. Cool on a wire rack for 10 minutes before turning out of pan to cool completely.
MELT together the chocolate and cream in a bowl over gently simmering water, stirring occasionally, until smooth. Stir in drops of food colour until the ganache is golden egg yellow. Stand ganache at room temperature for 2 hours before refrigerating until firm enough to spread.
COMBINE the coconut in a bowl with a few drops of food colour and rub through with fingertips to colour the coconut.
ICE each cake with the ganache, top with coconut and arrange Mini Drop "eyes" and apricot "beaks". Store in an airtight container, refrigerated, until required.
Back to ingredients