Kina have that Cake
Brought to you by the Great New Zealand Birthday Cake Book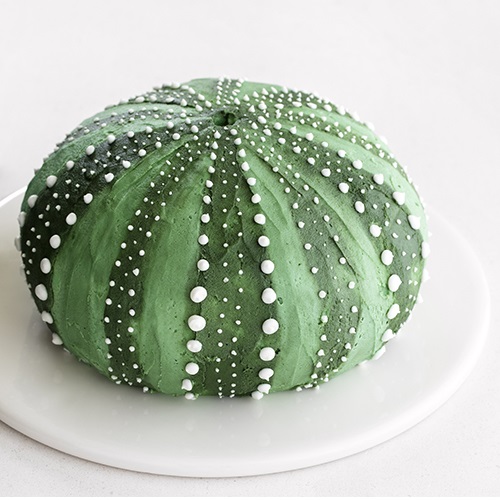 Cake tin: 20 cm round
Pams Milk 240 ml
Pams cream of tartar 1¼ tsp
Pams oil 120 ml
Pams eggs, lightly beaten 150 g (3 eggs, approx.)
Pams vanilla extract 1½ tsp
Pams plain flour 270 g
Pams cocoa 105 g
Pams caster sugar 435 g
Pams baking soda 1½ tsp
Pams baking powder ¾ tsp
hot water 150 ml
You will need to double the above quantities to make the two cakes required in the recipe.
250 g Pams butter, softened and at room temperature
700 g Pams icing sugar
2 tbsp Pams milk
40 g Pams egg white (1 egg, approx.), or 40 g meringue powder (follow directions on packet)
240 g Pams icing sugar, sifted
1 tsp lemon juice
food colourings: black & green<
1 tbsp Pams cocoa
1 piping bag
1 small round tip (Wilton 3)
1 large round tip (Wilton 6)
1 skewer
View the method
Bake TWO 20 cm cakes at least a day before you plan to decorate.
Please note: The quantities shown and instructions are for baking ONE cake.
Preheat the oven to 180°C on standard bake (160°C on fan bake, but avoid using fan bake as it causes excessive peaking during baking). Prepare cake tin by spraying liberally with oil spray.
Place milk and cream of tartar in a small glass, stir and set aside for 5 minutes. In a small bowl, place oil, eggs and vanilla extract, and stir to combine.
Into a large mixing bowl, sift flour, cocoa, caster sugar, baking soda and baking powder.
Scrape all of the milk mixture into the egg mixture and stir, then add the wet ingredients to the dry ingredients. Using a hand mixer, mix to combine, then slowly add hot water and mix well until you have a smooth batter.
Pour the mixture into the prepared tin and bake for approximately 1 hour 15 minutes, checking the cake regularly during the last quarter of cooking time, or until a cake skewer comes out clean when inserted into the cake.
Cool for 15 minutes in the tin, then remove and cool completely on a wire rack. Once fully cool, wrap the cake in plastic wrap or place it in an airtight container if you plan to decorate it the following day, or wrap it in tinfoil, followed by plastic wrap and then freeze it.
If you know your baking isn't cooked through but it's looking crusty on top, carefully place a sheet of tinfoil on top of the cake. This will stop it from getting any darker on top but will allow the cake to continue cooking until it's fully done.
To make the buttercream, beat butter in an electric mixer, using a paddle attachment, until the butter lightens in colour. Slowly add icing sugar in small batches (so it doesn't fly out of the mixing bowl), beating in between until combined. Add milk 1 tablespoon at a time.
Start with room-temperature butter (not melted) and to beat with an electric mixer until the butter turns from a yellow to a white tone before adding icing sugar. Buttercream can be stored in an airtight container for up to 2 weeks in the fridge, but bring it back to room temperature and beat again before using so it is as light, fluffy and soft as possible.
Place a third of the buttercream in a separate bowl and colour it khaki. Colour the remaining two-thirds dusty green. Add colour proportionately as follows, a little at a time, mixing well, then continuing to add colour until desired tone is reached.
For Khaki filling, add cocoa to create brown base, mix, then use the tip of a toothpick to add a tiny amount of black, then add a drop of blue and a few drops of yellow.
For Dusty Green filling, add a toothpick tip of black, a toothpick tip of blue and a drop of yellow.
To make the royal icing, beat egg white in an electric mixer, using the whisk attachment, on a slow speed until bubbles start to appear.
Add sifted icing sugar a little at a time, beating on a higher speed until it forms firm peaks.
Add lemon juice and mix in gently. Tightly cover the icing with plastic wrap as soon as it is made so it doesn't dry out.
Royal icing will keep in an airtight container in the fridge for up to 10 days. Remove from the fridge, bring to room temperature and stir well before using.
Fit the small round tip to a piping bag and half fill it with royal icing. Cover the remaining royal icing with plastic wrap to prevent it from drying out.
Turn 1 cake upside down and spread dusty green buttercream on top of it. Stack the other cake the right way up on top. Use a sharp serrated knife to completely round off the edges of the cake to make an oval kina shape, as shown.
Crumb coat the cake by applying a thin layer of dusty green buttercream with a palette knife or offset spatula to achieve a very thin, smooth finish (you should be able to see the cake through the icing). Never wipe excess crumb-coat icing back into the main bowl of icing as it will be full of crumbs and spoil the rest of the icing.
Refrigerate cake until dry to the touch.
Place the cake on the serving plate and thickly cover it in the dusty green buttercream to a smooth finish. Using a palette knife, spread 5 thick, evenly spaced stripes of khaki buttercream around the cake, then add a narrow khaki stripe between each thick stripe. Taper the stripes as shown. Use the palette knife to gently smooth and blend the 2 shades of green together.
Use the skewer to hollow out a small 1 cm wide hole at the very top of the cake where all the stripes meet.
Using the piping bag with white royal icing, pipe 2 lines of small dots down the middle of each thick stripe and 1 line down the middle of each narrow stripe. Change to the large round tip and pipe slightly larger dots down each side of the narrow stripes. Finally, going down each side of the thick stripe, pipe larger dots that start off medium-sized, get larger towards the middle of the cake, then medium-sized again towards the bottom.
Back to ingredients