Lamb Kofte Salad
Leave boring BBQs behind by spicing up some Canterbury lamb Middle Eastern style. One that's sure to become an old favourite.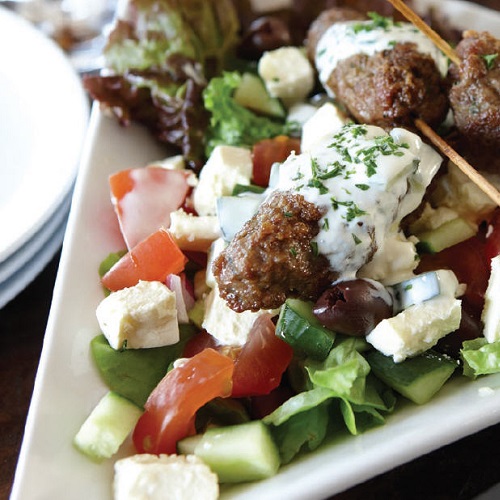 Kofte:
600g of lean minced lamb
1/2 teaspoon chilli powder
1 teaspoon cumin
1 teaspoon chopped coriander
1 teaspoon ground coriander
12 x six inch wooden skewers
1 teaspoon turmeric
Mint yoghurt dressing:
200ml natural yoghurt
50g finely chopped mint
100g diced, peeled cucumber
salt and pepper to taste
1 lemon zested and juiced
Greek salad:
200g salad greens
1 small cucumber, diced
100g cubed feta
1 red onion, finely diced
2 tomatoes, chopped
100g kalamata olives
View the method
Combine all kofte ingredients in a bowl and mix thoroughly. Make into 50g balls, then roll these to a sausage shape and insert a skewer into each one. Grill on a BBQ or flat grill until golden on all sides.
For the mint yoghurt dressing, mix all ingredients together, and season to taste.
Make a bed with the lettuce on each plate. Mix the other Greek salad ingredients in a bowl and place even amounts on each bed of lettuce.
Place three skewers crossed on each plate, and drizzle with mint yoghurt dressing.
Back to ingredients