Cheese Scones with Mānuka Honey
This twist on a kiwi favourite pays tribute to the star Tupuārangi, that is associated with the sky and who looks after the forests. We brush the top of these takakau (scones) with beautiful mānuka honey for a subtle sweetness.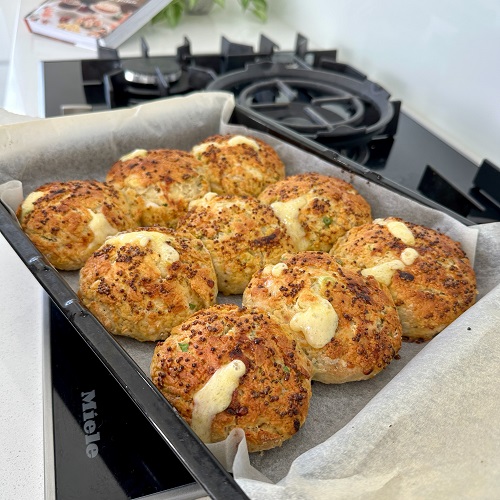 Kia toru kapu puehu parāoa whakatipu - 3 cups self raising flour

Kia kotahi kokoiti pēkana paura - 1 tsp baking powder

Kia kotahi me te haurua kokoiti tote - 1 ½ tsp fine salt

Kia kotahi kokoiti huka - 1 tsp sugar

Kia toru puna riki - 3 spring onions

Kia kotahi kapu tīhi kua waruwarutia - 1 cup cheese, grated

Kia whā kokonui mīere mānuka - 4 tbsp mānuka honey

Kia rua kokonui mahitete - 2 tbsp mustard (wholegrain)

Kia kotahi kapu kirīmi - 1 cup cream

Kia haurua kapu miraka - ½ cup milk

Kia 125 karamu tīhi Brie - 125g brie
View the method
Pre-heat the oven to 200 degrees.
Add the puehu parāoa whakatipu, pēkana paura, tote and huka to a large bowl.
Tapahia ngā puna riki. Chop the spring onions. Raua atu ngā pun ariki me te tīhi kua waruwarutia ki roto I te puehu parāoa. Add the spring onions and grated cheese to the flour. Gently mix together.
Add the mīere mānuka and mahitete into a small bowl. Melt them in the microwave for around 20 seconds.
Make a well in the flour mix and pour in the kirīmi, mīraka and 2 tablespoons of the honey and mustard mixture. Mix gently with a knife.
Tip on to a lightly floured bench and press it out until around 1cm thick. Cut into 9 equal pieces.
Tapahia te tīhi brie kia 9 ngā wāhanga. Cut the brie cheese into 9 pieces. Take a piece of the dough, add the cheese in the centre and fold it in. Repeat with each piece.
Place in to a 30cm x 20cm tray. Brush the remaining honey mustard mixture on top of each scone.
Tunua ngā takakau mō te 20 miniti. Bake for 20 minutes.

Back to ingredients