Kūmara and Carrot Soup
This soup pays tribute to the Tupuānuku star in the Mātariki constellation. Tupuānuku is the star associated with food that grows in the ground – so we've packed this hupa (soup) with onion, celery, carrots and kūmara.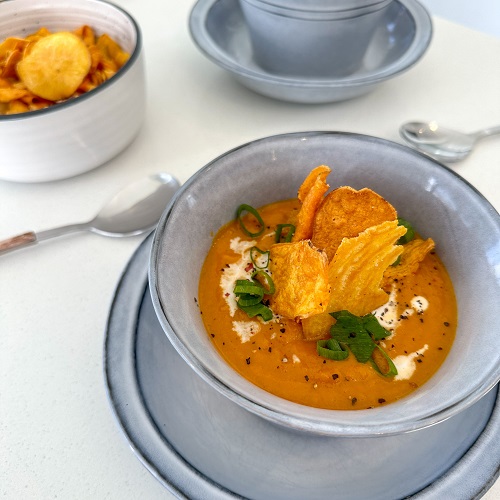 Kia rua kokonui noni -

2 tbsp oil

Kia kotahi aniana mā -

1 white onion

Kia toru tā herewī -

3 celery stalks

Kia 500 karamu kāroti -

500g carrots

Kia kotahi kokonui paparika paoa -

1 tbsp smoked paprika

Kia kotahi kokonui garam masala -

1 tbsp garam masala

Kia 50 karamu pē tōmato - 50g tomato paste

Kia 600 karamu kūmara ārani - 600g orange kūmara

Kia kotahi rita pū hua whenua - 1 litre vegetable stock

Kia toru hauwhā kapu miraka kokonati - ¾ cup coconut milk



View the method
Heat a heavy based pot with the noni (oil).
Tapahia te aniana, herewī me ngā kāroti kia iti te rahi. Chop the onions, celery and carrots in to small pieces. Add to the pot.
Whakatāwaratia ki te tote me te pepa. Season with salt and pepper.
Tukua ngā rau kikini me te pē tōmato - add the spices and tomato paste. Tunua mō te rima miniti. Cook for 5 minutes.
Waruwarutia ngā kūmara - peel the kūmara. Tapatapahia - chop into pieces.
Add the kūmara and pū hua whenua to the other vegetables. Stir. Reduce to a simmer and cook for 30 minutes.
Once the vegetables are all cooked, blend with a stick blender until smooth. Pour in the kirīmi kokonati and blend again. Season again if needed. Serve with a drizzle of the remaining coconut milk and some kūmara chips for crunch!


Back to ingredients