Salmon Quiche
This recipe pays tribute to Waitī, one of the nine stars of Matariki. Waitī is connected to freshwater and the creatures that live in our awa, streams and lakes, such as the star of this quiche: Salmon or Hāmana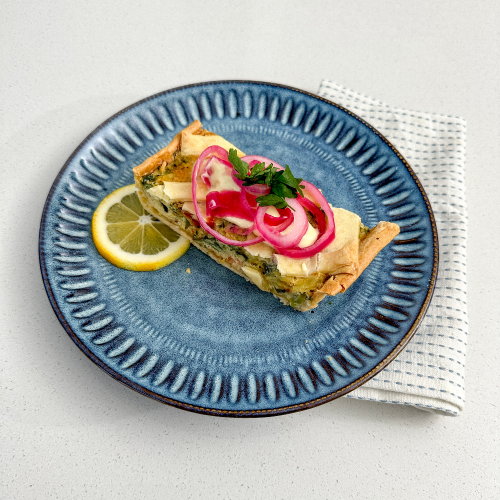 Kia 300 karamu pōhā nō te toa - 300g frozen savoury pastry sheets
Kia kotahi kapu tīhi kua waruwarutia - 1 cup cheese, grated
Kia kotahi kapu kōkihi - 1 cup spinach (baby leaves)
Kia 150 karamu hāmana - 150g salmon (hot smoked)
Kia rima hēki - 5 eggs
Kia haurua kapu kirīmi - ½ cup cream
Kia rua kokoiti mahitete - 2 tsp mustard (wholegrain)
Kia haurua kokoiti natimeke - ½ tsp nutmeg
Kia rua puna riki, kua tapatapahia - 2 spring onions, chopped finely
Kiri rēmana pirahirahi - Zest of 1 lemon
Tote me te pepa - Salt and pepper
Kīnaki tōmato - Tomato chutney (optional)
View the method
Whakamahanatia te umu kia 175 te pāmahana. Preheat the oven to 175 degrees.
Roll out the pastry and press in to a tart tin. Press baking baking paper firmly inside the pastry, weigh down with dried beans or rice.
Tunua mō te 15 miniti. Bake for 15 minutes. Remove the baking weights and baking paper.
Whakahokia ki te umu. Return to the oven. Cook again for 10 more minutes and remove from the oven.
Sprinkle over half of the tīhi (cheese).
Chop the spinach finely and sprinkle over the cheese.
Tukua ngā wāhanga o te hāmama ki runga. Add pieces of the salmon on top.
Whakaranutia ngā hēki, kirīmi, mahitete, natimeke, puna riki, kiri rēmana, tote me te pepa ki te oko. Combine the eggs, cream, mustard, nutmeg, spring onions, lemon zest, salt and pepper in a bowl.
Riringihia atu ki te tāte. Pour it on to the quiche.
Ruia te tīhi ki runga. Sprinkle the cheese on top and dollop on some kīnaki tōmato. Make strips of pastry on top if you have any remaining.
Tunua ki te umu mō te 35 miniti. Cook for 35 minutes or until golden and it springs back when pressed.
Leave to cool for 5 minutes before slicing. Serve with some pickled red onion and crème fraiche!
Back to ingredients