Milk Chocolate and Maple Biscuits
Try these tasty Milk Choc and Maple Biscuits!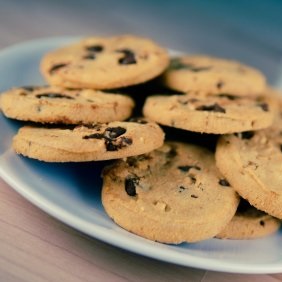 120g Pams butter, softened
1/2 cup sugar
2 Tbsp maple syrup
2 Tbsp Pams cocoa
1 cup self-raising flour
1 cup Pams milk compound chocolate buttons
View the method
Pre-heat the oven to 165ºC.
Cream butter and sugar until pale and fluffy with an electric beater
Beat in maple syrup and cocoa.
Sift over flour and mix well.
Spoon walnut sized balls onto a lined baking tray. Flatten slightly with finger tips and decorate with a few milk chocolate buttons.
Bake for 10-12 minutes until firm and golden. Melt remaining milk chocolate buttons and drizzle over cooled biscuits.
Makes approx 24.
Back to ingredients