Milk Chocolate Chunk Cookies with Coffee Butter Cream
Decadent, indulgent, delicious... What more do you need in a cookie?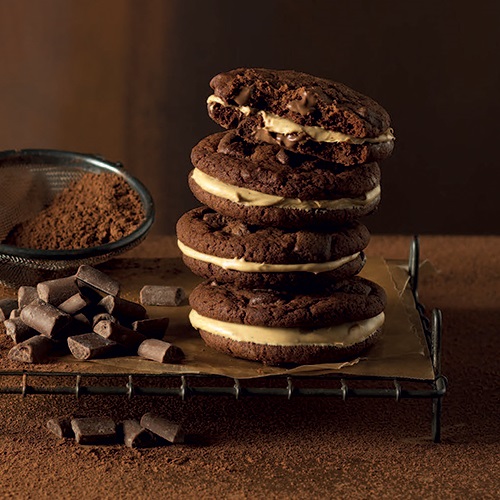 125g Pams Butter, softened
1 cup Pams Brown Sugar
1 egg
1 tsp Pams Vanilla Essence
1½ cups Pams Self-Raising Flour, sifted
2 tbs Pams Cocoa Powder
150g Pams Real Milk Chocolate Chunks (roughly chopped and extra for top of biscuits)
50g Pams Butter, softened (for butter cream)
1 ½ cups Pams Icing Sugar (for butter cream)
2 tbs hot water mixed with 2 tsp Pams Cafe Roast Instant Coffee (for butter cream)
1 tsp vanilla paste or extract with seeds (for butter cream)
View the method
Pre-heat oven to 170°C and line two flat trays with baking paper.
Using an electric beater, cream butter and brown sugar for 2 to 3 minutes until pale and fluffy. Add egg and vanilla and beat in well.
Fold in sifted flour, cocoa and chopped chocolate chunks. Roll the mixture into walnut-sized balls and flatten slightly onto the lined trays, leaving room for spreading.
Place a couple of extra chocolate chunks on each cookie and bake for 10 to 12 minutes or until their edges are lightly toasted. Cool cookies on the tray for 5 minutes to allow them to set. Allow to cool completely before sandwiching with coffee butter cream.
For the butter cream, whip the butter with an electric beater until fluffy, then add 1 cup icing sugar, coffee, vanilla and beat well. Add icing sugar as needed until cream is fluffy and thick. Chill until required.
Back to ingredients