Choco-PB Frozen Banana Bites
These a-peel-ing morsels have it all: sweetness, saltiness, and bananan-ess. Make a bunch of Bronwyn Taylor's Choco-PB Frozen Bananas and keep them in the freezer for a mid-week treat that's sure to please a crowd!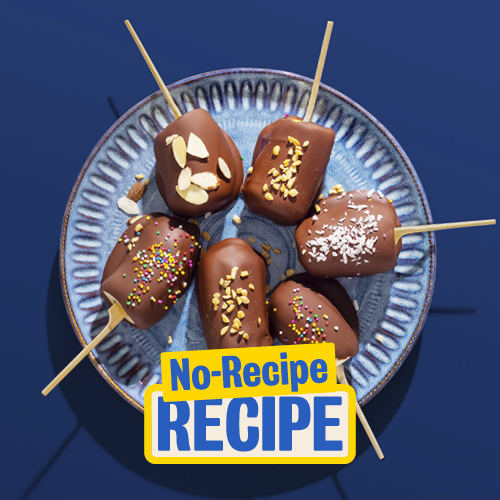 Bananas
Kebab skewers
Peanut Butter (we used smooth)
Chocolate (we used Whittaker's 50%)
Toppings (we used 100s and 1000s, coconut, crushed peanuts, and flaked almonds)

View the method
Cut the bananas into 5-6cm chunks
Put the skewer into one of the ends. We cut our skewers in half.
Using a spoon, spread the peanut butter onto the bananas. Put them on a lined tray. If your PB is too thick, heat it in the microwave for 10-20 seconds.
Put the tray in the freezer for 10-20 minutes.
Melt the chocolate over a double boiler or in the microwave in small 20 second bursts.
Dip the frozen banana chunks into the melted chocolate, let the excess drip off, and put them back on the tray.
While the chocolate is still wet, sprinkle your desired toppings on top. Return the tray to the freezer.
Keep them in the freezer in a zip-lock bag!

Back to ingredients