BBQ Chicken Hawker Rolls
Ready in 20, these Malaysian-style hawker rolls are a great spring lunch or light dinner. Grab the barbeque, some friends, a cold drink and dig in! Everybody's happy with of these in hand.
This delicious recipe was created by our friends at Pams. Visit pams.co.nz for more food tips.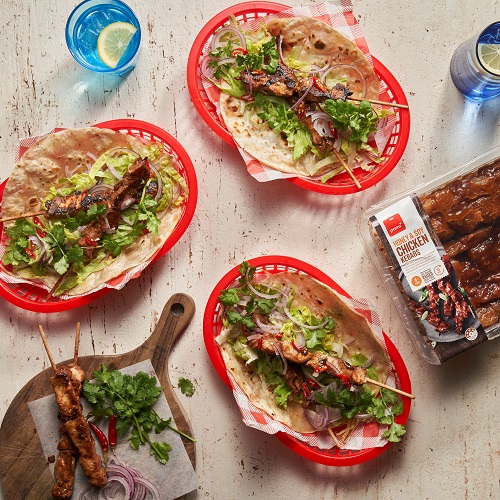 1 packet Pams Honey & Soy Chicken Kebabs
4 Pams Plain Roti
1 packet Pams Fresh Shredded Lettuce
2 Pams Red Onions, finely sliced
1 red chilli, finely sliced
1 large handful of coriander
View the method
Grill the chicken kebabs as per packet instructions, turning regularly.
Spray or brush the rotis with oil on both sides, and fry in a separate pan until each side is golden.
Assemble the rolls by placing a large handful of lettuce on each roti, top with 2 chicken kebabs and garnish with the red onion, chilli and coriander. Serve immediately.
Tips & Tricks
Serve with a drizzle of sweet soy sauce.
Back to ingredients