Cheese Rolls
Delicious, oozy cheese rolls are a Southland classic and make the perfect snack or lunchbox filler. Even better, they can be made ahead of time! Store them uncooked in your freezer, ready to pull out, defrost and bake in the oven.
This delicious recipe was created by our friends at Pams. Visit pams.co.nz for more food tips.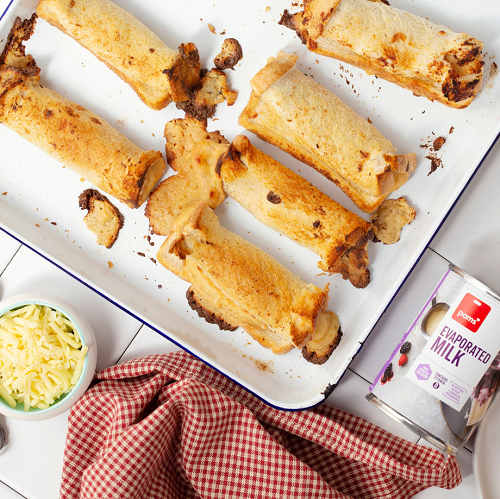 2 cups Pams Tasty Natural Grated Cheese
1 Pams White Onion, grated
1 cup Pams Evaporated Milk
½ packet onion soup powder
10 slices white sandwich bread
View the method
Mix all ingredients except the bread in a small saucepan over a low heat.
Heat until the cheese has melted, and all ingredients have combined. Allow to cool before using.
Generously spread one side of each slice of bread with the cheese mixture, roll up firmly and place on baking tray.
Grill in the oven at 180°C for 15 minutes, or until golden brown, turning as needed.
Tips & Tricks
If you don't have any onion soup on hand, add a little extra onion and a teaspoon of mustard – yum!
Back to ingredients