Pasties
Images from The Great New Zealand Baking Book copyright © Lottie Hedley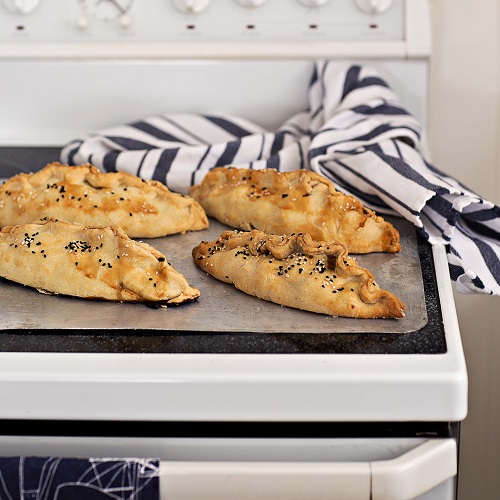 125 g Pams butter, chilled and diced
125 g lard, chilled and diced
500 g Pams plain flour
pinch of Pams salt
6 tbsp chilled water
1 egg, beaten
2 tsp sesame seeds (optional)
1 onion, finely chopped
1 clove garlic, crushed
1 tsp olive oil
1 tsp Pams butter
500 g skirt or scotch steak, trimmed and chopped into 1.5 cm cubes
1 medium potato, peeled and chopped into 1.5 cm cubes
200 g swede, peeled and chopped into 1.5 cm cubes
2 tbsp chopped fresh thyme leaves
1 tbsp sea salt
2 tsp freshly ground pepper
View the method
Place butter, lard and flour in a food processor. Pulse till crumbs form, then add water and pulse again to make a firm dough. Cut into 4 pieces, flatten slightly, wrap well and chill for at least 30 minutes.
Cook onion and garlic together, gently, in olive oil and butter for 5 minutes, till soft. Mix with steak, potato, swede, thyme and salt and pepper. Set aside to cool.
Roll each pastry ball to ½ cm thick on a lightly floured surface, and cut each into a 23 cm round (we use a plate to do this). Firmly pack a quarter of the filling along the centre-line of each round. Brush all around the edge of the pastry with beaten egg, then bring the sides up around the filling and crimp firmly together.
Place on a lined or non-stick baking tray and brush with remaining beaten egg. Sprinkle with sesame seeds, if using, and chill for 30 minutes.
Pre-heat oven to 200°C. Bake pasties for 10 minutes, then lower the temperature to 180°C and bake for another 45 minutes.
Back to ingredients