Peppered Orzo Greek Salad
This makes a nice change from the usual – orzo has a great texture. The Mediterranean flavours are very popular and it makes a big, colourful platter of food. The dish goes well with roast chicken, seafood, or with barbecued meats.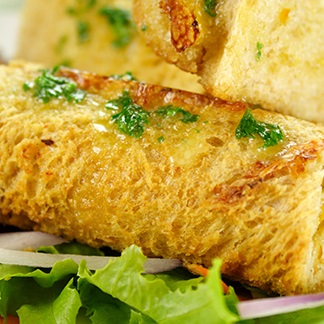 2 cups Orzo (rice-shaped pasta also sold as Risoni)
3 capsicum peppers (red, yellow green)
1 cup cherry tomatoes
¼ cup red onion, finely chopped
2 tablespoons lemon juice
¼ cup Pams Extra Virgin Olive oil
1 teaspoon each: lemon pepper seasoning, castor sugar
a bag of pre-washed salad leaves
½ cup Pam's Pitted Olives
100 g. feta cheese
Paprika (optional)
View the method
Cook Orzo in a large pot of salted boiling water for about 10 minutes or, until cooked al'dente. Drain and cool.
Seed and thinly slice the capsicum peppers. Halve the cherry tomatoes. Combine these and the red onion, with the cooked, cooled Orzo.
In a small screwtop jar, combine the lemon juice, olive oil , lemon pepper and sugar. Shake to emulsify. Toss this dressing through the Orzo mixture.
Spread the salad leaves over a large platter. Spoon over the Orzo salad. Nestle the olives into the salad. Crumble the feta cheese overall. Sprinkle, if liked, with paprika.
Back to ingredients