Rocky Road
Rocky Road is a fun and tasty home-made treat that the whole family will love!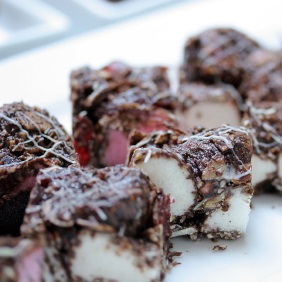 100g packet Pams Multi-coloured Baking Mallows
70g packet Pams Slivered Almonds, toasted
½ packet Pams Jelly Snakes, cut into pieces
375g Milk Chocolate buttons or melts
2 tbsp vegetable shortening
View the method
Line an 18cm-square cake tin with non-stick baking paper.
Combine marshmallows, toasted almonds and jelly snakes in a bowl.
Heat chocolate and vegetable shortening in the microwave on a medium heat until just melted. Stir to combine. Cool for 5 minutes.
Pour cooled melted chocolate over remaining ingredients and stir to coat bits with chocolate. Spoon the mixture into the prepared tin. Leave to set for 2 hours, and then cut into squares.
Back to ingredients